Erosion Control Beaches Gain Acceptance but Still Face Hurdles
By 2020 Ted Smith Environmental Storytelling Intern Kelsea Harris-Capuano
"I love that piece of property," Bob Keenan said. Keenan was referring to his beach. Designed and built by Dr. Mark Lorang, former faculty at the Flathead Lake Biological Station, the beach's purpose is to provide erosion control for Keenan's North Shore property on Flathead Lake.
Owner of this property since 2000, Keenan, who is a business owner and long-time member of the Montana state legislature, had his beach constructed in 2004. It was the first beach Lorang built for a private property owner on Flathead Lake to help prevent erosion. The beach, made up of varying sizes of gravel and cobble, was meant to mimic what naturally occurring beaches do to protect shorelines.
More than 15 years after that beach went in, Keenan is still happy with the results. Lorang has since worked with other private property owners, management agencies like the U.S. Fish and Wildlife Service, the Confederated Salish and Kootenai Tribes, and the Flathead Lake Biological Station (FLBS) to design and build erosion control beaches.
Despite Lorang's decades of work trying to remedy Flathead's Lake's shoreline erosion problem, the permitting process is arduous, his methods are still relatively unknown, and not widely accepted.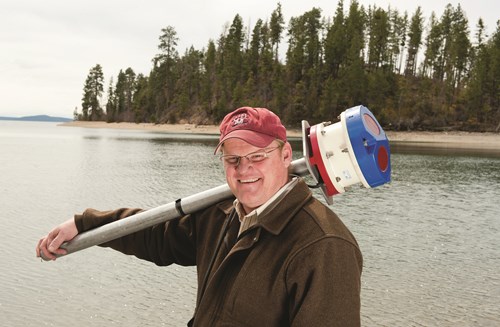 Former FLBS faculty and erosion control beach engineer Mark Lorang.
Keenan feels strongly about Lorang's beaches. He thinks they work, and they should be accepted and the preferred approach to shoreline protection. He likes watching the wave dynamics and how they continually affect the characteristics of his beach. While Keenan is still happy with his beach, he conducted some maintenance over the years which included bringing in more gravel, which required additional permits.
The more commonly used methods for preventing shoreline erosion include seawalls, large concrete barriers, and riprap, large boulders. The application and permitting process for those methods is much less burdensome and faster due to their long-term use and acceptance over the years. Keenan said the permitting process for beaches is frustrating. He was hoping that by now there would be a more streamlined process with the county zoning and planning department, especially after so many years of Lorang building beaches with success.
The process for getting an erosion control beach (aka dynamic equilibrium beach) approved is currently an undertaking. A dynamic equilibrium beach requires a major variance permit due to significant alteration of the shoreline. This often includes an environmental impact statement (depending on the project size), a floodplain development permit, and a recommendation from the planning board. Large beach projects that require putting more fill into a water body require an additional permit from the Army Corps of Engineers.  All of these compiled pieces then need final approval from the board of county commissioners.
Despite his 30 plus years of work of successful beach building, Lorang must go through this process every single time. 
Mark Mussman, Zoning and Planning Director for Flathead County estimated the timeline for approving a new beach to be at least three months from submitting all the necessary paperwork to final approval before beach construction can start. In comparison, riprap requires one lakeshore construction application and permit approval by the board of county commissioners. This is about a two-week process Mussman said. 
Seawall permitting is a bit different, as it is dependent on the size of the project. A seawall could require a simple lakeshore construction permit, but could also require a major variance permit as well. Mussman said his office now actively discourages the building of seawalls. He said that over the years public comment and recommendations from experts and management agencies have indicated to his department that seawalls have caused more erosion and are not a good idea.
Mussman, the Zoning and Planning Director since 2015, said he's seen only two requests for seawall permits, one was denied, and the other never made it to the planning board for a recommendation. Almost all erosion control beach requests he's seen have been approved.
While the Zoning and Planning Department may be accepting of Lorang's work, the three-month timeline and permitting process is a potential barrier for those looking for an erosion solution. But Mussman said the attitude of his office during his tenure has been that the dynamic equilibrium beaches are the most natural solution and should be encouraged the most despite the lengthy process. 
"The more applications we get for the dynamic beaches, the easier it will be to go through the process and that much greater assurance that it's not a waste of time," he said.
Mussman said his office hasn't really looked into ways they could streamline the process given the size of the projects and the need for Army Corps review and approval. But maybe in the future.
Process Stalls Progress
Keenan isn't the only one frustrated with the lengthy permitting process and a general lack of acceptance. Barry Hansen a fisheries biologist for the Confederated Salish and Kootenai Tribes said organizations have been slow to adapt. Hansen collaborated with Lorang on a few projects on the Flathead Reservation including putting in a beach at Blue Bay and a restoration project in Polson, MT.
From a fisheries perspective, Hansen said lakeshore habitat has been undervalued. Shoreline vegetation, bank stability, and integrity are all critical to healthy habitats. Native fish species like cutthroat and bull trout are dependent on nearshore environment.
Hansen, who works to protect native fish species said erosion and the subsequent use of seawalls and riprap degrade the environment and make it harder for those native species to survive. Hansen said there's been some progress to change the system, but not fast enough.
"Ironically, here is a natural solution to a problem that has economic and aesthetic benefits, and the regulations actually work against that effort, but then permit a concrete wall or large riprap."
Hansen also thinks an important part of moving forward towards widespread acceptance of Lorang's erosion control beaches is about moving beyond Lorang. He has the years of experience and expertise which isn't readily accessible elsewhere. But Lorang has been out there talking to as many people as will listen. Over the years he's enlisted support from a variety of people.
That includes landscape architect and recent convert Kurt Vomfell.
Kurt Vomfell who previously worked in Southern California for 10 years is now based in Kalispell and works with the City of Whitefish and private clients on Whitefish Lake. He recently started collaborating with Lorang on beach projects.
The first project Vomfell and Lorang worked on in 2018 included extensive time educating and informing the City of Whitefish about the process and benefits of putting in erosion control beaches. Vomfell said that the projects he works on are huge collaborations involving teams of people specializing in various trades and specialties. The design process alone can usually include home and landscape architects, civil and structural engineers, and excavation and landscaping contractors.
Vomfell's impression is that Whitefish has been receptive. This includes Mayor John Muhlfeld. Muhlfeld and Bailey Minnich, who works in the City Planning Office. They were reviewing riprap regulations when Lorang came into the picture.  Vomfell and Lorang gave presentations on gravel beaches hoping to change riprap regulations.
Vomfell takes an eco-friendly approach to his projects, being careful not to plant invasive or non-native plants. Knowing his projects cause disturbance, he tries to restore as much as possible when he's finished by salvaging native plants from disturbed sites and replanting them. While Vomfell is knowledgeable in native plant restoration, before meeting Lorang he knew nothing about erosion control beaches and shoreline restoration methods.
"I didn't know anything about the gravel stuff, so I just followed the regulations. I would permit whatever it was I thought I could get permitted. I never thought to test the requirement for the riprap."
Vomfell and Lorang are now working on some larger public access projects on beaches in the San Francisco area. Lorang's work on local lakes has broader applications for coastline erosion prevention and restoration.
Shoreline Protection on a Global Scale
Flathead Lake has about 185 miles of shoreline which sees significant wind and wave action, much like an ocean. The U.S. coastline is more than 95,000 miles. So, Lorang's work and expertise has applications far beyond Flathead Lake. It isn't just Flathead Lake's shoreline that's pulling a disappearing act.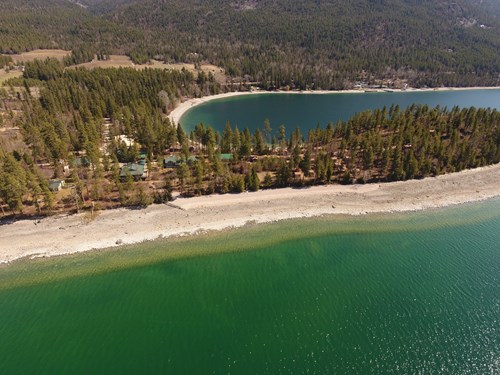 In spring of 2020, Lorang oversaw the installment of a new erosion control beach at FLBS.
The Army Corps' Institute for Water Resources put together reports on the state of the country's coastlines. In a National Shoreline Management Study, the Corps stated that the shorelines of the U.S. were eroding with "enormous implications for the health, economics, and welfare of our citizens and the environment."
In a 2014 report on coastal systems, the Intergovernmental Panel on Climate Change said that climate change has and will continue to cause shoreline erosion. Coastal erosion is made significantly worse by sea level rise. The report predicted that mean sea level will very likely continue to increase due to warming temperatures which cause glaciers and ice sheets to melt, as well as the thermal expansion of water.  The report states that it's "virtually certain that sea level rise will continue beyond the 21st century."
Ralph Brayne, a Senior Coastal Processes Scientist working for the Centre for Environment, Fisheries and Aquaculture Science (Cefas), a government agency in the United Kingdom, said "soft structure" approach to coastline protection is widely accepted within the UK and the most commonly used methodology for addressing erosion and coastline protection problems. Brayne said that as a place surrounded by water with a lot of natural rocky coastline, the UK has been working with soft structure defenses longer, perhaps making the idea of a gravel beach as an erosion defense easier to accept than a place like Flathead Lake.
A large part of Brayne's job working for the government is to assess risk to high value infrastructure projects built on the coast. Brayne, whose background is in physical oceanography, contacted Lorang while working on his PhD which quantified the relationship between nearshore waves and gravel beaches.
Brayne traveled to Flathead Lake for some of his research. Flathead Lake's contained ocean-like dynamics were optimal for conducting research, rather than on the UK coast with 15 to 20-foot waves. Lorang's extensive work on gravel beaches made him a great collaborator to help with Brayne's research. Brayne said he also works on overseas projects that use Commonwealth funds to help governments in developing countries build coastline resilience.
In the UK there are specific designations for resistance and resilience. Resistance refers to a structure that won't deform or be damaged due to impact (i.e., hard structures such as riprap and seawalls) while resilience refers to the ability of something to function and exist after impact (e.g., an erosion control beach).
"That is the difference between hard and soft defense. The hard defense is resistant to wave attack, but at the same time has negative consequences. A gravel beach might not be resistant because it deforms, but it rebuilds or reshapes the beach."
Brayne said that within the UK, the benefits of soft structures or defenses are well accepted. The coastal engineering community knows to use hard structures as a last resort. 
Back on Flathead Lake
Lorang said he is still in frequent conversations with engineers who claim his beaches won't work, or that they'll just wash away.
Marc Pitman of the Montana Department of Natural Resource and Conservation said he thinks Lorang, with his extensive knowledge and experience with wave action, is far more qualified to provide expertise than a lot of engineers. Pitman reviews and gives recommendations for floodplain development projects and he said that normally the requirement for these projects is using a licensed architect or an engineer.
"I give [Lorang] special dispensation because he knows a hell of a lot more than the engineers do on what works for Flathead Lake."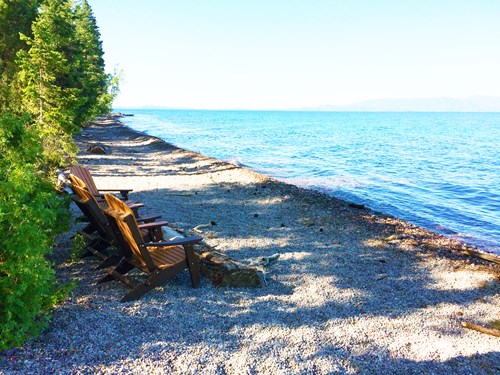 This finished erosion control beach provides a natural and sustainable way to protect shoreline properties while also increasing recreational opportunities at FLBS.
Pitman said he's aware of companies who conduct projects joining the expertise of both engineers and scientists. He thinks this collaboration allows everyone to see the bigger picture rather than one small part. Also in support of sharing expertise, Lorang included a design-template in the report of an April 2020 project. He described his designing-with-nature approach and how it mimics the "morphology, fabric and dynamic behavior of a naturally occurring beach."  
In recent years Lorang has been putting together more detailed reports and descriptions of his process, with the hope of producing a manual. A manual could be disseminated widely so companies, engineers, contactors, agencies, commissioners, and even the Army Corps have access to the knowledge needed to build erosion control beaches and understand the science and math that underpin them.
"I'm trying to give credibility to the whole living shoreline mentality. I think that's one of the last things I can do if it took me 30 years to get to this point," Lorang said.
Despite the challenges, Lorang loves his work and believes in what he has and can still accomplish. For property owners like Keenan, who are still happy with Lorang's work 15 years later, the proof is in the beach. Keenan said he spends at least 200 days of the year walking his shoreline and checking out how his beach is doing.
"I have a passion for it, I observe what's going on down there almost every day in the spring, summer and fall," he said.