On This Page:


Flathead Lake 'Keep it Blue' License Plate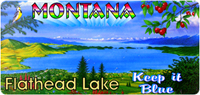 The Flathead Lake
Keep It Blue
license plate helps honor and support the reason we live in and love the Flathead valley. Every purchase and renewal of the
Keep It Blue
license plate generates $20 for FLBS research and lake monitoring efforts.
As part of the monitoring program, FLBS researchers have described long-term trends in water quality as affected by expanding population and changing land uses in the Flathead Basin. These studies now provide a basis for minimizing pollution and maintaining the clear, clean water that people associate with the
Keep It Blue
plate.
Purchasing the
Keep It Blue
plate offers several great benefits:
Shows your support for Flathead Lake and water quality
Contributes a sustained annual donation to Flathead water quality monitoring costs
Sends a great message - that you value water quality and the quality of life in the Flathead valley
The Flathead Lake Biological Station is reliant on your continued support to maintain the monitoring efforts that have allowed Flathead Lake to remain one of the most pristine large lakes in the world. Your private sector donations and grass roots fundraising, like the Keep It Blue license plate proceeds, help to continue the necessary level of sampling to assess trends in water quality not only in Flathead Lake but in many basin tributaries. Flathead Lake is undoubtedly one of the great jewels of the world, and we want to keep it that way!
Help do your part. Spread the Word.
Keep It Blue!
Did you know?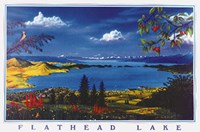 Original artwork for the 'Keep It Blue' license plate was donated by Whitefish artist Glen Prestegaard. Poster reprints of Glen's work may be purchased at
Glen's Montana Planet website
.
Where Can I Buy the Flathead Lake Keep It Blue License Plate?
The Flathead Lake
Keep It Blue
license plate may be purchased when you initially license or renew your annual vehicle license plate tags.
For more information, details on non-profit specialty license plates is available at the
State of Montana website
. The
Keep It Blue
license plate is sponsored by the Flathead Lake Protection Association, a non-profit associated with Flathead Lake protection efforts.  
FLBS Flathead/Whitefish/Swan Lake Detail Maps
Over the years, many people have requested a high quality, detailed map of Flathead Lake and its surrounding area. Visitors have even offered to purchase the out-of-print versions that we have hanging on the walls of the Bio Station. We listened and came up with a solution.
FLBS has published several detailed lake maps. These maps are based on satellite imagery of the Flathead watershed and include typical map features with info about lake and terrain features.
All proceeds go toward Flathead/Whitefish/Swan Lake Monitoring and Research. 
For more information, email Tom Bansak at FLBS or call 406-872-4503.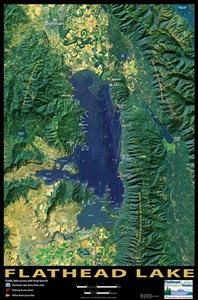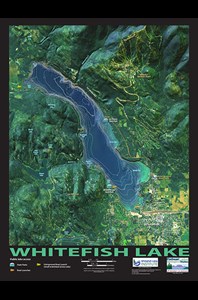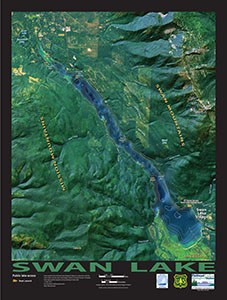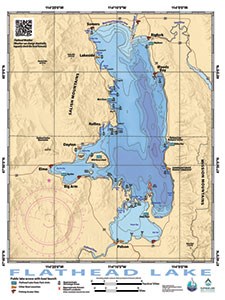 ---
Prices
24" x 36" Flathead Lake print : $20.00
18" x 24" Flathead Lake waterproof, Whitefish Lake, Swan Lake : $20.00
Where Can I Buy the FLBS Detail Maps?
Maps are available now at FLBS and at select retail outlets around the Flathead and Mission valleys.
Large Map Features
Based on 2013 satellite imagery of the Flathead Basin
Aerial view with labels of major geographic features in the basin, including mountain ranges, lakes, and rivers
Flathead Lake details include lake depths (bathymetry), point and bay names, and island names
Flathead Lake public access points include MT State Parks, fishing access sites, and public boat launches
Photographic quality with a matte black finish
Makes a beautiful and informative gift to both Flathead visitors and longtime residents
24"x36"
Waterproof Version Features
Same as above, except:
18"x24"
Improved depth detail to assist boaters
Waterproof!
---
XPlorer Flathead Lake Map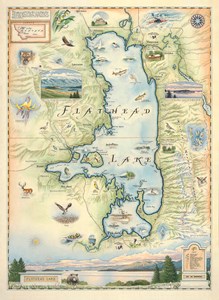 The Flathead Lake Biological Station and the Flathead Lakers have collaborated with Xplorer Maps of Missoula, Montana to create a unique, artistic rendition of Flathead Lake. The result of this effort is a beautiful watercolor antique style print of Flathead Lake and its surroundings with many illustrations of regional flora and fauna.
Xplorer Maps generously donates a portion of the proceeds from this map to FLBS to benefit the long-term understanding and protection of Flathead Lake through our programs.
Xplorer Maps creates hand-drawn and hand-lettered illustrations of significant natural and historical sites throughout the world. The illustrations are geographically accurate and contain interpretive, educational, cultural and historical information. Xplorer Maps has partnered with a variety of organizations, including Glacier National Park and Yellowstone National Park, to raise awareness and funding for conservation of these special natural places.
Xplorer Maps will generously donate a significant portion of the proceeds from this map to the FLBS to benefit the long-term protection of Flathead Lake through FLBS monitoring programs.
Where Can I Buy the XPlorer Flathead Lake Artistic Map?
Poster versions of the Flathead Lake map are now available for purchase at
Xplorer Maps
. Poster prices begin at $40.