Former FLBS intern Evan Bilbrey joining Bio Station team as full-time researcher
By 2019 FLBS Ted Smith Environmental Storytelling Intern Conna Bond
Summer interns at the Flathead Lake Bio Station often tell stories of trading one big set of plans for another. For some, the fork in the road presents itself during the internship. For others, the trade-off in plans is what led to the internship in the first place. For Evan Bilbrey, it was the latter.
Evan's fascination with microbiology and biogeochemistry began during his years growing up as a Boy Scout in Minnesota—camping, climbing, backpacking and skiing. His parents, both chemists, supported his growing interest in science, particularly in the processes occurring in the natural environment around him.
Those areas of science aren't what brought him to Montana, however.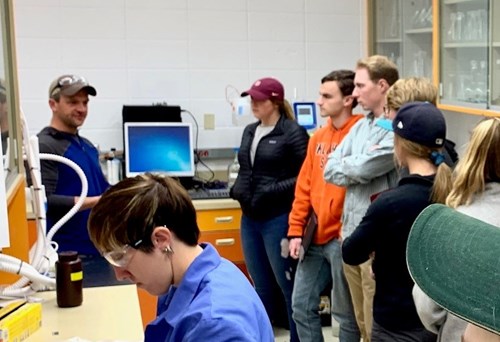 Evan Bilbrey (third in line on the right) joins other interns for a Freshwater Research Lab orientation during the start of the 2019 FLBS Summer Internship Program.
"I originally started out as a nursing student at Montana State University," Evan told us during his microbial ecology internship at the Bio Station last summer. Evan finished his prerequisites for the nursing program and went as far as completing a semester of clinical nursing.
"Being a student nurse didn't quite play out exactly as I thought," he said in his characteristically stoic manner. "I figured it wasn't for me and took some time off."
It gave him time to consider other options. A couple of years into a new major in microbiology, he saw the Bio Station internship posting on an MSU job board and decided to apply.
Matt Church,  FLBS professor of aquatic microbial ecology and leader of the Bio Station's Microbial Biogeochemistry and Ecology Lab, quickly recognized in Evan the patience and skill necessary to study the elusive mysteries of microbial processes with meticulous precision. He hired Evan to work with him over the summer, gathering samples and designing experiments to explore new possibilities.
Early last June, Evan gathered with Matt and members of his research team, John Ranieri and Amber Larsen,  in Matt's office. Matt outlined possible topics for experimentation on a whiteboard the way a football coach outlines team plays in the locker room. He involved Evan in every aspect of the conversation and treated him with the same level of respect he gives all of his colleagues.
Evan's work as an intern would largely focus on seeking to identify alternative sources of phosphorus in Flathead Lake. The lake has notoriously low levels of that nutrient yet contains plenty of phosphorus-dependent organisms.
"The cool thing about this project is that it's telling us something about phosphorus cycling in the lake and the way that organisms adapt to low phosphorus environments," Matt said later. The project, now funded, will continue for the foreseeable future.
For Evan, the summer internship at the Bio Station was a tutorial for things to come. With John and Amber planning to move on to other pursuits, Matt contacted Evan last fall and asked whether he would be interested in a staff position as a researcher.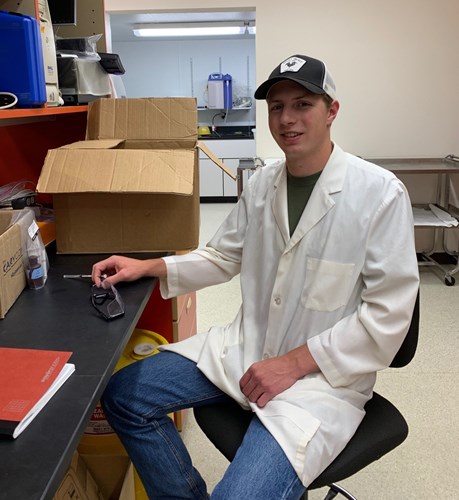 Evan Bilbrey working on an experiment involving methane production at the Bio Station's Freshwater Research Lab.
Evan graduated from MSU in December with a bachelor's degree in environmental microbiology and is now training to take over the extensive list of tasks John has been responsible for over the past three years. That includes working with long-term research scientists Jim Craft and Tyler Tappenbeck in gathering and meticulously processing water samples for the Flathead Monitoring Project through every season and every kind of weather. 
Evan doesn't mind. When he isn't in the lab wearing goggles and a white lab coat, he's outdoors— camping, climbing, backpacking and skiing. He considers working with Matt and being part of the Bio Station team a tremendous privilege.
"Matt's a good man—a good teacher," Evan said. "It's really fun talking to him about the research. It feels like it comes really easy. I've learned a lot."
Conna Bond is a science writer and environmental journalist from Kalispell, Montana. She was the Bio Station's environmental science and natural resource journalism intern last summer.