Monitoring Montana Waters Makes a Big Splash in its Inaugural Year
Earlier this year, the University of Montana's Flathead Lake Biological Station (FLBS) launched a new program called Monitoring Montana Waters (MMW). Developed and led by FLBS Assistant Research Professor Rachel Malison, the program provides scientific expertise, guidance, and funding to citizen-led watershed groups in Montana to build capacity for freshwater monitoring and ensure the use of scientifically sound methodologies. Now in the culmination of its inaugural year, MMW has already made a positive impact on water quality monitoring in Big Sky Country.
"Our first year went really well, we are happy to be assisting multiple watershed groups with water quality monitoring," said Malison.  "Our Big Sky Watershed Corps member, Keaton Martin, was a great help this year. He developed materials, led outreach events and played an important role facilitating the shipping of sampling supplies and samples for groups."
With only Malison and Big Sky Watershed Corps Member Keaton Martin at the helm, MMW provided financial, logistical, and scientific support to seven watershed groups in 2021. These engagements resulted in over 1000 water samples collected from sampling sites in streams and lakes throughout western Montana. Once collected, the samples were sent to the FLBS Freshwater Research Lab to be analyzed for nutrient content, water turbidity, and the presence of E. Coli bacteria.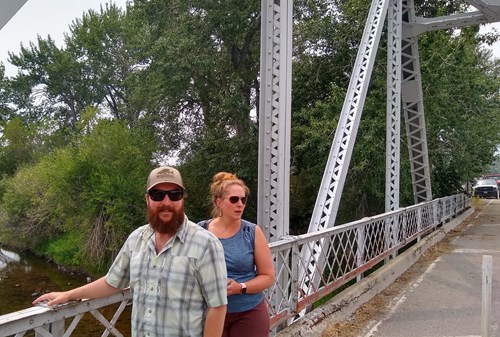 FLBS Assistant Research Professor and MMW Developer Rachel Malison meets with Big Hole River Foundation Executive Director Brian Wheeler.
"Water quality monitoring is critical to be able to detect environmental changes, pollutants, and to inform management," said Malison. "Trained citizen-led groups play a key role collecting data in Montana where there aren't enough resources or funding available for agencies to sample enough of our numerous streams and lakes. MMW provides the training and resources to ensure that data collected by these groups are high quality so that they can be used for the management and conservation of our waters."
All groups working with MMW are required to have an approved sampling plan and to upload their data to the Montana EquIS Water Quality Exchange, a database that stores water quality monitoring data, including physical, chemical, biological, and habitat data, from locations across the state.  This ensures that scientifically credible data collected by citizen-led monitoring efforts are available to be used for water quality management decisions in Montana.
For the more established watershed groups, the support provided by MMW was more supplemental. The Big Hole Watershed Committee, for example, applied for and received technical assistance and funding to add more sites to their existing monitoring, while the Missoula Valley Water Quality District was granted funding from MMW to increase the capacity of its citizen-led sample collecting program to sample in more locations. 
For other groups, like the Yaak Valley Forest Council, MMW worked closely alongside citizen scientists to create and implement a water sampling program from the ground up. This included developing a sample and analysis plan (SAP), developing standardized operating procedures, funding equipment and lab analyses, and providing on the ground field training.
But the engagement of MMW doesn't stop there. The program visited all but one citizen-led group in their respective watersheds. Malison and Martin also took part in three community outreach events, and gave presentations to the Montana Watershed Coordination Council (MWCC), Flathead Basin Commission, American Water Resources Association, and Montana Association of Conservation Districts. In the fall, the program also provides guidance for data entry and upload.
Finally, MMW regularly holds collaborative meetings with representatives from the Montana Department of Environmental Quality (DEQ) and the Montana State University Extension Water Quality Program (MSUEWQ), which—along with the MWCC—have provided training and resources to citizen-led monitoring groups for over a decade. The MMW program works closely with these partners to complement existing projects and amplify statewide collaborative water monitoring efforts. 
With so many accomplishments and achievements in the books, it seems likely that MMW would be ready to settle in for a nice, relaxing winter. The opposite is true. As a Big Sky Watershed Corps member, Martin's yearlong service at FLBS is almost at an end. But even as he gets ready to depart on a new adventure, a new Big Sky Watershed Corps member is ready and waiting to jump in and continue the MMW mission where Martin left off.
"Keaton was really a great asset to the program in 2021, and we are certainly going to miss him," Malison said. "At the same time, we are excited to welcome our new member, Claire Kirk, who will join the team in January after finishing her degree at Oregon State University this fall."
Kirk's arrival will come at a pivotal time for MMW. After all, the application deadline for groups hoping to work with MMW in 2022 is only a few months away, and there's already plenty of work to be done. All citizen-led watershed groups interested in MMW support must have a draft of their sample analysis plan and standardized operation procedures submitted to MMW by February 1, 2022 to be considered for funding, equipment, or services. Ideally groups will start making monitoring plans the fall before they would begin taking samples.
In other words, if you participate in a citizen-led watershed group and are interested in joining MMW for the 2022 monitoring season, the time to start the application process is now. MMW is a philanthropically funded program made possible by PlusFish Philanthropy, a USA-based private organization dedicated to protecting healthy aquatic ecosystems and the benefits derived from them.
For more information about MMW, visit the program's website. For more information about the application process, contact MMW using the form or by sending an email to mmw@flbs.umt.edu