FLBS Runs Safe and Impactful Internships in Spite of COVID-19
By 2020 Ted Smith Environmental Storytelling Intern Kelsea Harris-Capuano
The dining hall at the Flathead Lake Biological Station was unusually quiet this summer. No wafting aroma of meals cooked for students, no clinking of silverware or idle chatter. Chairs were stacked and tables put away. Instead, a single intern could be seen sitting out on the dining hall deck, facing the lake. Laptop open, focused on the task in front of her.
That intern was often Kelly Hendrix. A lot of her work is computer based, and she spent the majority of her laptop time out on the deck overlooking Flathead Lake. The intern experience looked a little different this year, but the Bio Station was still able to run a safe and valuable residential intern experience in 2020.
Hendrix, who is about to enter her senior year at Montana State University, is studying Environmental Science with a focus on soil and water. As a Computer Science/Geographic Information Systems (GIS) intern, she is working on a model that will show how vulnerable freshwaters in the area are to a species of invasive mussels. 
She thinks the Bio Station has been responding well to the current situation while still doing valuable and necessary science. 
"I appreciate seeing how research can still happen in safe ways even during the pandemic. You can't just not worry about invasive mussels for a year. That work still needs to happen," she said.
The Bio Station cancelled all summer classes along with the usual events and conferences, but the internship program was still able to run with some adaptation and elbow grease.
Hendrix isn't the only one who's grateful to be at the Bio Station for the internship program in light of COVID-19. 
Anna Bardin, an intern in the Bio Station's SensorSpace lab, was supposed to do a different internship with NASA this summer, but it was cancelled.An intern at FLBS last year also, Bardin was able to come back and continue working on environmental DNA technology. She's happy to get the chance to finish the project she was working on from last summer.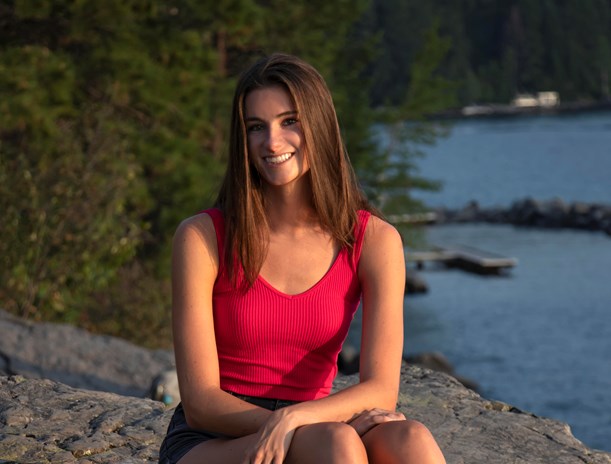 FLBS 2020 summer intern Anna Bardin is currently a student in the Environmental Engineering program at UC-Berkeley.
The SensorSpace lab works with sensors and related technologies and caters them for ecological and environmental applications. Bardin's project is an auto-sampler, an automated system that is programmed to take samples from Flathead Lake to test for invasive species. 
Bardin, who's studying Environmental Engineering Science at Berkeley, has been commuting daily from a few miles down the road where her grandparents own a cherry orchard.
Bardin said last year was much busier with all of the groups coming to FLBS. It was really fun to have students around who came from all over the world.
Compared to this year, Bardin said it was nice to have familiarity with the Bio Station. The space and quiet gave her more time to focus on her projects and work more closely with her mentor, Dr. Cody Youngbull, who has overseen her internship through from last year.
"I was just thrilled I had somewhere I could be in person because you can't really do engineering remotely," she said.
Bardin said her interest in engineering stemmed from wanting to do something meaningful, solve problems and make a positive impact. She said her time at FLBS working on projects that have immediate applications in the real world made her feel like she was doing just that. 
Taylor Miranda who worked in the SensorSpace lab with Bardin this summer interned through the Montana Space Grant Consortium (MSGC), a branch of NASA's National Space Grant College and Fellowship program. 
Entering her senior year as a Geosciences major at the University of Montana, Miranda applied for a number of internships through the MSGC and was matched with the Bio Station. At first, she was apprehensive about living at FLBS for the summer.
And then it looked like the internship might not run. Miranda's internship started earlier than most, in late May, and the Bio Station still hadn't made final decisions about the number of interns it could have living safely on the grounds. 
Her NASA internship included a living stipend, but finding somewhere cheap to live near Flathead Lake in the summer looked to be a challenge. But it all worked out, as she and another MSGC intern found a place to live with the help of FLBS staff.
Miranda said that Gary Gagermeier a researcher at the SensorSpace lab and its intern coordinator, conducted daily temperature and symptom checks on the seven or so researchers and interns working in the lab.
This included the "jelly bean test." One of the stranger symptoms of COVID-19 is a loss of taste, so partly as a joke Gagermeier would make everyone eat a jelly bean at the start of the day. Miranda said that all the people working the SensorSpace lab have developed a close relationship and rapport which she didn't expect over her 10-week internship.
Miranda has really loved working in the SensorSpace engineering lab. She said she learned a lot by being exposed to a number of projects. For her one of the biggest takeaways was being around people who are excited about their work and eager to teach.
"I don't think I've ever met people who are so passionate about the work that they're doing and so excited to tell people about it. They're excited to explain it and they're so patient," she said.
The Bio Station ended up having 13 interns this year which is similar to the number they would have during a regular summer. Of those, a handful have family in the Flathead area with whom they stayed and six have been living at the Bio Station. 
Sourcing interns from within the state rather than the entire country, and limiting the number of people sharing common spaces like bathrooms and kitchens, were key decisions in keeping people safe, Tom Bansak FLBS Associate Director said.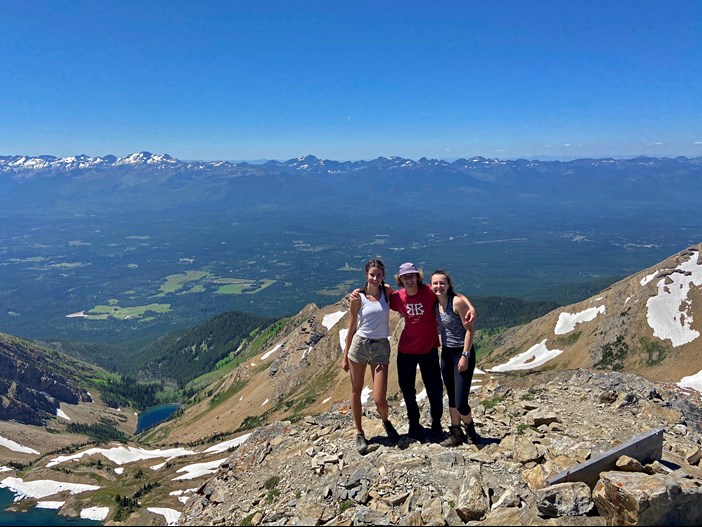 When they weren't playing a significant role in advancing FLBS research, summer interns Anna Bardin, Ryan Barna, and Taylor Miranda (pictured left to right) found time to explore the local wilderness.
Those were just a few of the decisions Bansak and Bio Station personnel had to grapple with when deciding if and how to run internships. 
Since mid-March when Montana gave shelter-in-place orders, FLBS started switching gears and scaling back operations. Bansak and Bio Station leadership worked hard behind the scenes, in daily conversations about how FLBS could safely run. Bansak estimated that about 50% of his time from March-June was spent on COVID-related planning and tasks.
"A lot of that was the thinking through, scenario planning and considering the safety components. We created a whole new way of operating in a really condensed time span, every decision had really important implications," Bansak said.
The Bio Station is a part of the University of Montana (UM), and the university switched to remote classes following spring break in March. That was followed by encouraging students to move out of residence halls. UM then cancelled its in-person summer courses.
FLBS considered running the internship program remotely, but ultimately decided to push for a residential experience. Being at the Bio Station where the science is happening is a cornerstone of the experience and was worth the extra time and effort to make happen Bansak said.
With events and classes cancelled, Bansak said that FLBS felt that the internships could still be conducted safely. The Bio Station has been running a formal internship program since 2016. The internship program started with four and doubled in the first year. 
The internship positions are paid and include room and board. Some of the internships are funded through grants by partners like NASA and the National Science Foundation, but most are funded by philanthropic donors, said Monica Elser, the Education Liaison and internship coordinator at FLBS. The Bio Station has consistent support from community members excited about providing a residential education experience.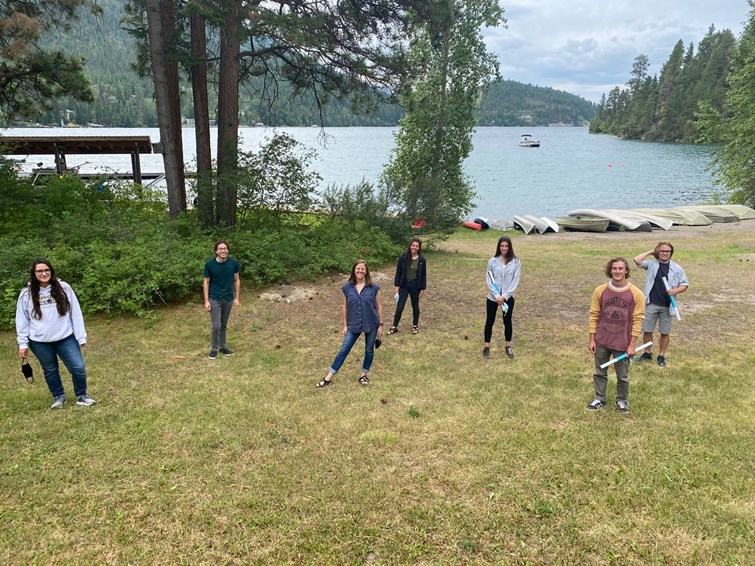 2020 interns joined researchers, faculty and staff in following strict safety measures from the moment they arrived at FLBS. 
Elser said that some donors want to fund specific positions while others donate to support the general internship program.
The Ted Smith Environmental Storytelling and Environmental Law internships for example are newer positions for UM graduate students, created and funded by interest from donors.
Elser said typically interns usually get an opportunity to meet their donors in person over the summer and donors frequently come to the final presentations interns give on their experiences.
Roger and Libby Smith, who fund the Environmental Journalism internship, have long time connections to the Flathead Lake area and believe strongly in the Bio Station's work. 
Roger and his brother Ted, whom the internship is named after, grew up in Missoula and their parents bought property on Flathead Lake in 1960. The two spent time at the lake almost every summer, their attachment to the place extending to their children who have also grown up spending time at the lake.
Ted, who died in 2012, was an avid outdoorsman, environmentalist and writer from a young age.  He worked to protect valued landscapes and solve complex environmental problems. Ted tackled natural resource, conservation, environmental education and climate change issues.   
"The internship is a reflection of Ted's values, his interest in storytelling, in writing, in the environment, his respect for indigenous communities and their values, and his love of Flathead Lake. FLBS stories will inform the public of scientific and environmental issues and research for our lake and watershed, for the region, and for the world," Roger said.
Randy Flores' internship, Conservation Database Coding, was also donor funded. Flores who had the opportunity to meet his donors in person said while he would have done the internship remotely, he was glad it ended up running in person. 
Computer coding lends itself a bit more easily to a remote format, but time at the Bio Station and meeting his donors helped him see a fuller picture of what he was working towards. He said it would have been much harder to be as interested or dedicated if he was working remotely.
Flores who is about to enter his senior year studying Computer Science at UM said he isn't sure where his degree will take him, but being at FLBS has peaked in interest in the use of computer coding in the environmental science sector.
"I think the intersection between the two of them is really interesting. You don't really think of computers or technology as being environmentally friendly or even associated with environmental work."
While formal intern positions like Flores' are paid, intern Sam Bosio volunteered his time in return for the experience. 
Arriving in July from his home in Hamilton, Montana, Bosio was at FLBS a little less than a month. An environmental science undergraduate student at the University of Notre Dame, Bosio had originally planned to be interning at the University of Notre Dame Environmental Research Center.
The internship was supposed to be 10 weeks and Bosio had taken classes in the spring in preparation. When the internship was cancelled due to COVID-19, Bosio had no summer plans and was looking for last minute options. 
One of Notre Dame's environmental research centers is located near the Flathead River less than 50 miles south of the Bio Station. FLBS personnel Jim and Monica Elser are both Notre Dame graduates so Bosio was able to make a connection.
While his time at FLBS has been brief, Bosio has been able to work with a few different FLBS researchers on a number of projects. 
Bosio went up to the Bio Station's Nyack Floodplain research site on the Middle Fork Flathead River, where he and FLBS researcher Tyler Tappenbeck collected samples from underground wells. Phil Matson who specializes in GIS and aquatic invasive species at FLBS, worked with Bosio on the RiverNet environmental sensor network combing through the physical, chemical and biological data collected in the Nyack area. Bosio also worked with postdoctoral researcher Matt Trentman on a wastewater treatment project in Missoula. 
In contrast to Bosio's brief experience, Abby Schmeichel has been working at FLBS since January. Schmeichel's position is a little different. She is an Americorps and Montana Conservation Corps member paired with the Bio Station until November.
Her more than six months of time at FLBS has been full of adaptation and change she said. Before COVID-19 related changes in March, Schmeichel and Elser were working in preparation for spring and summer programming with K-12 schools. They had a lot of classroom visits lined up in the spring that were all cancelled.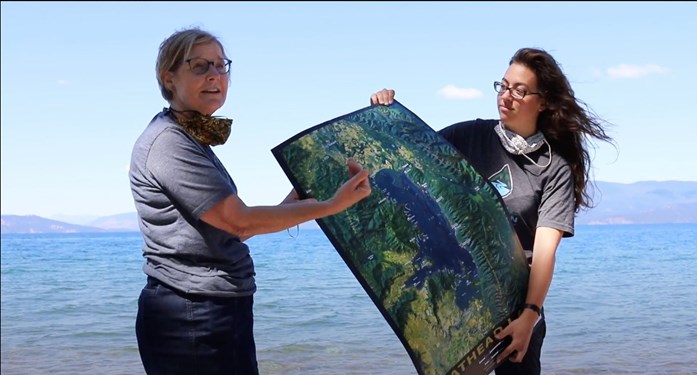 Abby Schmeichel assists FLBS Education Liaison Monica Elser in a presentation to visiting artists during the first-ever Plein Air painting workshop at FLBS.
While trying to adapt, Schmeichel said her job, which was specifically for education and field trip teaching, became a mix of other tasks. 
Schmeichel and Elser have been working on figuring out how to use remote learning formats. This has included making lesson plans adaptable and accessible to an online platform as well as work on "virtual field trips" as a way to engage students in environmental education who can't come to FLBS.
"I was wrapping my head around the fact that I probably wouldn't be teaching for potentially for the rest of my time here. That was really my whole job and I had to readjust and think about how we connect with kids now?"
While Elser and Schmeichel are hoping to have school groups come to FLBS in the fall, they're preparing for a variety of scenarios, like a lot of educational institutions.
One other big change to the Bio Station's internship program is the end of season presentations. Normally interns give robust presentations at the end of the summer in front of the FLBS staff along with donors and some friends and family. Usually a big turnout, this year was an abbreviated version. Hosted on Zoom, interns gave short five-minute presentations in front of a small live audience, boiling down their summers into the greatest hits.
Despite the changes and the uncertainty in the months leading up to summer, the overwhelming vibe from the interns was gratitude for a positive experience at FLBS. Hendrix looked up from her laptop towards the lake. The wind was picking up creating small white caps and making the lake look more like an ocean than an enclosed body of water.