From Elrod to Elser: UM Flathead Lake Biological Station Celebrates 120 Years in Operation
This year the University of Montana's Flathead Lake Biological Station (FLBS) is celebrating 120 years in operation, continuing its status as one of the oldest active biological field stations in North America.
"For 120 years the Bio Station has made a difference in western Montana as we work to understand and protect our rivers and lakes," says current FLBS Director Jim Elser, who took the helm of the Bio Station in 2016. "During the next 120 years we will elevate and expand those impacts to meet the challenges of a rapidly changing planet."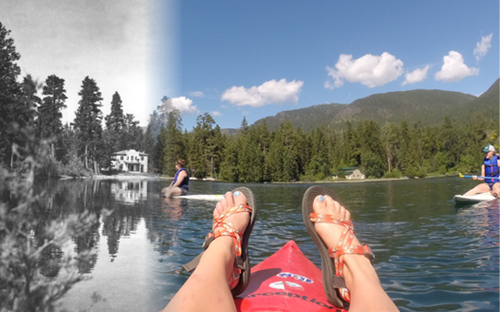 FLBS students take a peek back in time at the original FLBS facilities at Yellow Bay. 
Located on the shoreline of Yellow Bay, FLBS was founded in 1899 by Dr. Morton J. Elrod, a University of Montana Distinguished Professor and its first Professor of Biology. Since that time, immersive, hands-on education has remained at the forefront of the Bio Station's mission. Each year, students from around the country and all over the world have come to Flathead Lake to learn firsthand about biology, ecology and other natural sciences. The students stay onsite in FLBS cabins and enroll in classes that take them deep into the mountains of Glacier National Park and out on the waters of the Flathead watershed.  These experiences, combined with the opportunity to do research alongside world-class scientists, are a big reason FLBS has seen a growth in its summer class program of 350% since 2015.  

FLBS students conducting research on Yellow Bay in 1915 (left) and 2018 (right).
The Bio Station also maintains a storied reputation as a research institution. By 1967, FLBS researchers were conducting year-round research onsite in the Morton. J. Elrod Laboratory. In 1977 the Bio Station launched a scientifically rigorous water quality research and monitoring program. This monitoring program continues to this day, providing one of the best long-term and continuous lake and river datasets in the world.

The "Bug" (left), which served as the Bio Station's monitoring vessel in 1913, compared to the modern-day Jessie B. 
In 1981, the construction of the state-of-the-art Schoonover Freshwater Research Laboratory added the ability to conduct onsite chemical water analyses to the suite of research tools employed at FLBS, vaulting it into position as one of the finest freshwater research facilities in the world.
But this renowned field station isn't satisfied with past achievements. In recent years, the scientists and staff of FLBS have started the Flathead Lake Aquatic Research and Education (FLARE) program for grade school and high school students and their teachers; engineered and built a novel environmental DNA tracking device in the Bio Station's new SensorSpace environmental sensor laboratory; and completed an expansive report on the economic damages Montana would suffer if aquatic invasive mussels were to invade its waters.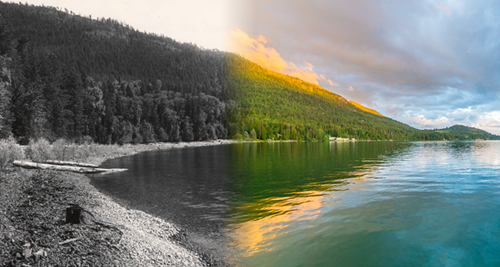 Yellow Bay in early 1900s compared to Yellow Bay in 2018.
Now FLBS is embarking on a new chapter in its long and remarkable history—one that involves strengthening bonds with local communities; a commitment to extensive collaboration with state, federal and tribal agencies; and forging ahead full-speed with innovation and discovery to create the future of lake and river science on the shores of Yellow Bay.
"Our aim," Elser says, "is to bring the world to the Flathead, while bringing Flathead expertise to the world."