FLBS Remembers Don 'Buzz' MacCarter
We were saddened last month to learn of the passing of our dear FLBS alumnus, friend and fellow researcher, Don 'Buzz' MacCarter. 
One of the legendary 'Osprey Twins,' Don was a familiar and significant figure at FLBS. He and his twin brother Doug were born and raised in Billings, Montana, and first came to FLBS as graduate students, where they spent the next decade studying the osprey of Flathead Lake.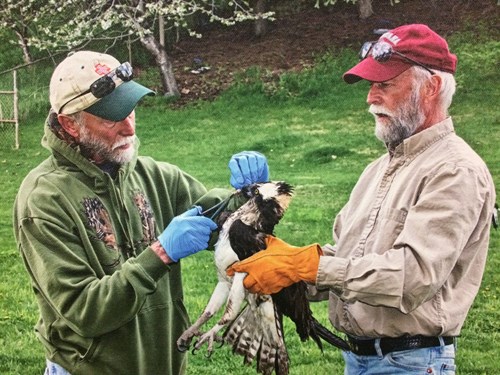 Doug 'Butch' MacCarter (left) and Don 'Buzz' MacCarter (right) work with an injured osprey at the Montana Wild Wings Recovery Center in Kalispell in 2014. 
From 1966 to 1976, Don's work concentrated on osprey population trends, while Doug focused on feeding habits of the birds. Together, their research helped to expose the harmful effects of the pesticide DDT on osprey survival and reproduction, and their data would later serve as a baseline in measuring the recovery of osprey populations following the U.S. ban of DDT in 1972.
"The work of the MacCarter brothers on osprey is a landmark study that demonstrated the devastating impact of DDT in the environment," said FLBS Director Jim Elser. "The subsequent resurgence of osprey is a shining example of the hope we can feel that sound scientific knowledge can be brought to bear for outcomes that protect the environment for the benefit of us all."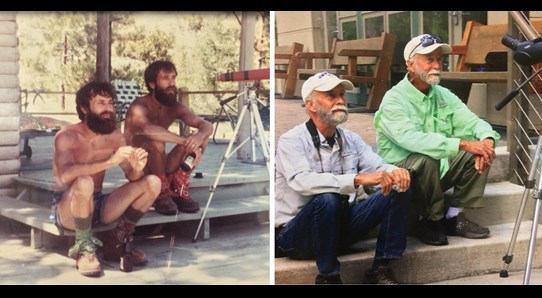 Doug and Don MacCarter sit for a picture while monitoring osprey nests in 1968 (left) and again in 2017 (right). 
In 1976, their last year at FLBS, the twins conducted nest surveys to assess the long-term recovery of osprey in the Flathead area. Over 40 years later, Don and Doug returned to FLBS to conduct a second osprey nest survey around the lake. Finishing in early 2018, and compiled with the help of University of Montana Professor and osprey expert Erick Greene, the results of this second survey clearly demonstrate the significance of Don's and Doug's research on the health and recovery of Flathead osprey.
"Don will certainly be missed," Elser said. "But his work lives on in his twin brother Doug. The Bio Station looks forward to helping Doug continue their life's work."
This map shows the results of the MacCarter twins initial osprey nest survey in 1976 (red dots) and the second survey conducted with UM Professor Erick Greene in 2017-18 (yellow dots).
After FLBS, Don went on to work and live in Minnesota, where he taught high school biology, and New Mexico, where he served as Division Chief of Public Affairs for the New Mexico Department of Game and Fish. He enjoyed two decades as an official wildlife photographer, and monitored waterfowl, raptor, elk, and pronghorn by helicopter. Even after a lifetime of these amazing experiences, his favorite place continued to be Wild Horse Island right here at Flathead Lake. 
A formal memorial service for Don is currently scheduled to take place at FLBS on Sunday July 28, 2019, at 1 p.m. in the Elrod Lecture Hall. In the meantime, donations to the Flathead Lake Biological Station are welcomed in Don's memory. Memorials may be sent to The University of Montana Foundation, P. O. Box 7159, Missoula, MT 59807 or online at https://www.campaignmontana.org/support-area/flathead-lake-biological-station. Please note 'In memory of Don MacCarter for the Flathead Lake Biological Station FB115.'