Flathead Lake Biological Station Enjoys Hospitality Explosion
by Conna Bond, Environmental Science and Natural Resource Journalism Intern
Wind rushed through the trees at 11 a.m. on a Thursday in July, whipping up a surf in Yellow Bay and churning logs against a row of kayaks and aluminum canoes along the Flathead Lake Biological Station's shoreline. Rain sprinkled intermittently from gray skies.
The scene was less than hospitable. Nonetheless, a cluster of round white tables and chairs had been set up on the lawn overlooking the bay in preparation for the University of Montana Alumni and Friends event that evening.
Inside the main building, assistant director and freshwater ecologist Tom Bansak sat in front of his computer eyeing spreadsheets, tapping out emails and deliberately ignoring the weather. Meghan Heffernan, his summer research assistant, sat at her adjacent desk and did the same.
"My job is to worry about the things I can control," Bansak said. "The weather isn't one of them."
Down the hall, Jodi Moreau, outreach director for the University of Montana Alumni Association, and Megan Redmond, events manager for the University of Montana Foundation, discussed logistics while preparing for the evening's festivities. Their organizations have co-sponsored the Flathead Alumni and Friends event for the past ten years, often hosting it at the Flathead Lake Lodge in Bigfork just up the road.
Moreau and Redmond selected FLBS as this year's venue for the alumni event after a site visit with Bansak last spring. They, like many, knew almost nothing about the bio station and the things that go on there, including a full-calendar of events hosted on bio station property by outside organizations.
"It's great because it's a University of Montana property that we hadn't explored before this event," Redmond said. "We thought it would be a neat opportunity to get more people to visit a UM property by the lake." They, like Bansak, were counting on good weather.
"We have been communicating and coordinating with the UM Foundation and Alumni Association about this event for months," Bansak said. "Meghan and I and the FLBS team have been working intensively on this for days. The Alumni Association and Foundation arranged the party supplies, the bar, the catering, and the registration. They are renting the venue from us, and we're providing the basic support."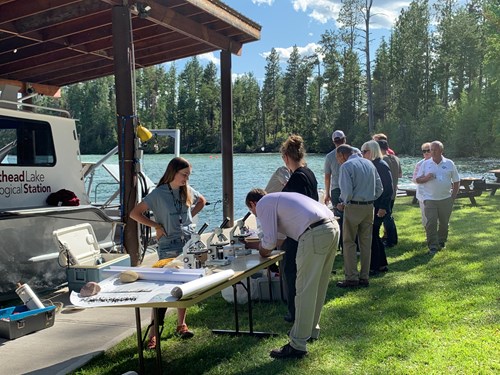 FLBS research on full display prior to the start of the 2019 University of Montana Flathead Lake Alumni event. 

Photo courtesy University of Montana Foundation intern Audrey Godbey.
Over the past two years, the hospitality and event management component of FLBS's mission, which includes research, education, and outreach, has exploded in terms of capacity. Many of the bio station's staff and scientists are involved on some level in providing those services.
In late June, the bio station hosted a day visit by 59 graduate writing students and their instructors from Johns Hopkins University. The online students, which included a group of science writers, had come together from all over the country for a week-long residency on the University of Montana campus in Missoula.
UM provided dorm rooms on campus and classroom space in the journalism school's Don Anderson Hall, according to Melissa Hendricks, associate director for Johns Hopkins' master's in science writing. UM associate professor Nadia White, who heads UM's master's program in environmental science and natural resource journalism, welcomed the group and suggested a visit to FLBS.
The graduate writing students arrived at the bio station by bus on a sunny Wednesday morning. Bansak ushered them into the Elrod Lecture Hall where he treated them to an hour of masterful science storytelling about recent dramatic changes in biodiversity in and around Flathead Lake. It was the story of food webs and ecosystems—of the arrival of aquatic invasive species like the Mysis shrimp and the disappearance of popular species like the kokanee salmon that once drove the economy around Flathead Lake.
It was also the story of former UM professor and scientist Morton J. Elrod who established the bio station in the late 1800s as well as of the many students and researchers wearing top hats and fancy dresses who arrived in Missoula on trains from the east coast, took stage coaches north to Polson, and caught a steamboat across Flathead Lake to Yellow Bay where they did science and frolicked in cool, clear waters.
Bansak's storytelling can turn even the most resistant person into a would-be scientist and conservationist. He's so involved in the goings-on at the bio station one wonders when he sleeps.
Nathan Rott, a UM journalism school alumni and NPR correspondent, had been recruited by Johns Hopkins as an adjunct teacher for the writers residency. He'd helped plan the week's activities, setting up guest speakers and site visits. Throughout the day, he hovered on the sidelines, chatting with old friends and introducing the writing students to scientists at the bio station.
After a tour of the FLBS lab, the students were given the opportunity to either relax by the bay and write or hear more presentations by the bio station's research faculty.
Ecologist Jim Craft, who has been a research scientist at FLBS since 1988, took two groups out on the bio station's research boat—affectionately named the Jesse B.—to the deepest part of the lake where he cut the engine and continued the storytelling. He described the effects of seasonal light on algal populations, explained methodology behind current research projects, and pointed out natural landmarks such as Wild Horse Island and the fringes of the Bob Marshall Wilderness. Craft has been at the bio station longer than anyone else and, like Bansak, can tell a good story.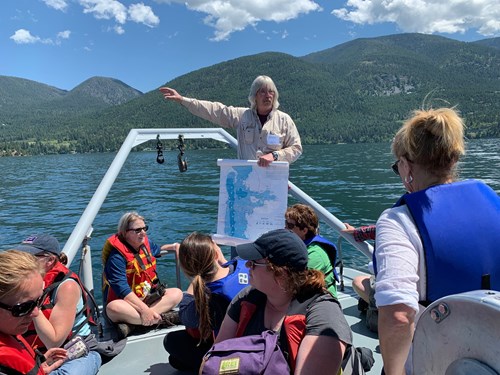 FLBS research scientist Jim Craft details the effects of seasonal light on microbial populations to a group of writers from Johns Hopkins University. Photo courtesy Conna Bond.
Phil Matson, a GIS and aquatic invasive species research specialist, gathered with students on the porch behind the conference room and told them about the ongoing battle to prevent zebra and quagga mussels from crossing the Continental Divide and making it into Flathead Lake. He talked about their potential to devastate local ecosystems and economies and cause land values to plummet.
So far the mussels have not invaded the Flathead watershed, which feeds the vast Columbia River Basin, due to an extensive community outreach and rigorous detection program that includes inspecting boats coming into the area. New technological advances in DNA testing now allow early detection of even a single strand of mussel DNA in water. There's no longer the need to wait until visible bodies of the mussels appear before waging battle.
Prevention is key. Once an invasive species arrives and takes over, beyond a certain point it's here to stay. Mattson shared with the students the challenges scientists have in getting this information out to the public. Prevention only happens through coordinated community and stakeholder effort.
In an email after the Johns Hopkins group left, Rott said the writing students were "jazzed" about their visit to the bio station and deeply impacted by the presentations. Many of them planned to pitch stories pertaining to the things they'd learned.
"The goal of bringing the class to the FLBS, in my mind, was to show them a breathtakingly beautiful part of Montana, awe them with it, and then explain to them the complex biological systems that are a part of the lake and how out-of-whack those systems can get due to human interference," Rott said. "Being able to SEE the lake and go out on it was invaluable. It gave the students a sense of place and scale. It's one thing to say that Flathead is the largest natural freshwater lake by surface area [in the western United States]. It's another to see it from out on the water."
That same view brings the Northern Rocky Mountain branch of the American Association of Laboratory Animal Science (AALAS) back to the bio station each year for its annual regional conference. AALAS promotes training, networking and education for those working in the laboratory animal medical field. The organization also promotes science education for children (K-12) and supports the Montana State Science Fair, according to AALAS secretary-treasurer Gwen Anderson.
AALAS has held its three-day annual conference at FLBS every June since 1998. Its members come from the Montana and Idaho state universities, Washington State University, and various Montana biotech companies. FLBS was picked both for its central location and because, according to Anderson, "it had everything—lodging rooms, dining facilities, meeting rooms—all in an amazing gorgeous setting!"
"The staff at FLBS have always been stellar to work with!" Anderson shared in an email. "They are professional, organized, friendly, and meet our needs—no matter what we ask for. Our attendees love the facilities, beautiful scenery and the accommodations at FLBS. We affectionately call it summer camp for adults!"
Anderson acknowledged that the "lodging rooms are not the Hilton" and it can sometimes be hard to get caterers to travel that far out of town, but they've already booked for 2020.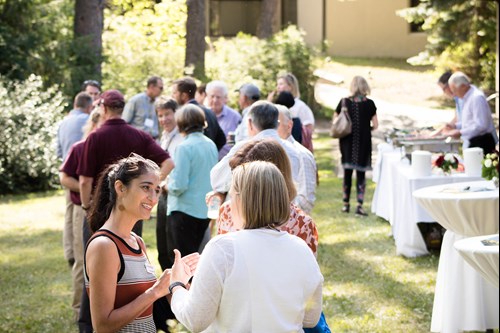 University of Montana friends and alumni enjoy the sunshine and conversation during the 2019 UM Alumni event. 

Photo courtesy University of Montana Foundation intern Audrey Godbey.
Opportunities to host events for outside groups are not only integral to the education and outreach aspects of FLBS's mission, but they also help support the bio station's facilities and the science that goes on there. FLBS is essentially a conglomeration of businesses, according to Bansak.
Research is the bio station's biggest source of revenue, accounting for about 40 percent of its budget. That revenue comes from grants that support scientific discovery as well as from contracted services provided by the bio station's specialty laboratories. Its Freshwater Research Lab provides water analysis services, its SensorSpace lab develops and builds environmental sensors for clients, and its genetics lab offers a broad range of genetic and genomic analysis services.
"All of our labs have to operate like businesses, because all of our labs have to end each fiscal year in the black, so they have to, by definition, be economically self-sustaining," Bansak said.
Summer education is the bio station's second business unit. Students and interns from all over the country and around the globe come to FLBS to take classes in ecology and wildlife biology or to assist one of the bio station's faculty members with long-term research projects. Funding for those classes was cut by the University of Montana fifteen years ago, according to Bansak, so they have to be self-sustaining as well.
Those students and interns need beds, food, transportation, and equipment for field work. Paid interns are housed in a lodge on the ridge above the lab, some of them in rooms with breathtaking views of Flathead Lake. Students stay in simple, neat, one-room cabins arranged in rows and clusters on the point beyond the lodge.
They all gather for breakfast in the comfortable dining hall, often eating out on the sprawling porch that overlooks the lake. They pack sack lunches with supplies set out for them by the kitchen staff, since nearly everyone is out in the field doing coursework or research during the day.
"The revenue we bring in from student tuition and scholarships needs to cover the costs of running those classes, including paying for the instructors, travel, supplies, food and lodging," Bansak said.
While some interns are volunteers, most are paid. Many are financially supported by outside organizations or by private donors who wish to support the bio station's mission.
The bio station's third business unit—hospitality services—accounts for the rest of the budget not covered by university and state funding or by private donors, according to Bansak.
A varied list of organizations hold annual events at the bio station, including a sewage treatment training course, a logging stewardship group run by the Montana State University Extension, and a wetland training by the Army Corps of Engineers. They all have their time slots, generally before or after the eight-week summer education session when most of the available beds are occupied by students and interns.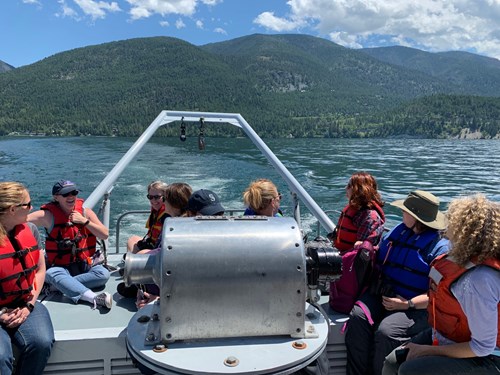 While visiting groups often spend most of their stay focusing on some form of academic or research-based activities, there's always time to enjoy Flathead Lake. Photo courtesy Conna Bond.
"Any group with an educational, academic or research focus can rent out our meeting, lodging, and dining hall spaces," Bansak said. He sometimes receives three or four calls in a day from new groups hoping to rent space at the bio station. He has to turn most of them away. The bio station is already booking events as far out as 2023.
"We don't rent space for recreation events," he clarified. "We need to reserve our spaces for groups with missions that overlap with ours."
In other words, don't plan on having your wedding or next family reunion on the bio station's lawn—but that doesn't mean you aren't welcome there. Local community members and even tourists drop in regularly for tours, to attend presentations by local and visiting scientists, or to learn about FLBS at its annual Open House typically held during the first week of August.
If you simply want to enjoy the water, you can grab your inflatable pink flamingo and swim next door at Yellow Bay State Park. From there, you'll have a great view of the bio station's research boats as they come and go. Better yet, join an organization that holds its annual meetings at the bio station.
If you drop in for a visit, make sure it's on a weekday. Generally, the only people hanging around the bio station on weekends are a few interns or students without cars who missed getting a ride into town or to Glacier National Park.
Bio station staff and faculty appear to get the work-life balance concept. They're as giddy as tourists about the outdoor perks of the Montana life, which makes them great event hosts. Although FLBS doesn't host recreational events, the stream of students, interns, visiting researchers with families, and organizations holding events on bio station grounds certainly contributes to the broader economy in Flathead Valley and beyond.
Nanette Nelson, FLBS's resident economist, studies the value of environmental goods and services—things like clean air and water and healthy wildlife populations that add value but aren't traded in markets. They're integral to many things that people do pay money for. Her research includes assessing potential economic impacts of a zebra and quagga mussel invasion.
Nelson suggested in an interview that the value of the bio station's hospitality services to the broader local economy is exponential.
"By hosting people here at the station, we are potentially contributing to that pool of people that are interested in coming here to visit." she said. "When people get exposure to the beauty, they want to come back again and again with their families or with a group of friends. The resulting love affair helps drive Montana's economic engine."
During a recent visit, Nelson's sister-in-law told her, "OK, I'm ready. I'm ready to move. I'm ready to buy property here."
"We make the argument here that our lakes' water quality is part of that engine," Nelson said, mentioning studies indicating that 30 to 40 percent of visitors come here for the rivers and lakes. They come for the fishing, swimming, skiing, paddle boarding, rafting, canoeing, scuba diving, kayaking, and even surfing. The bio station's efforts in monitoring and preserving water quality potentially help sustain Montana's broader hospitality economy.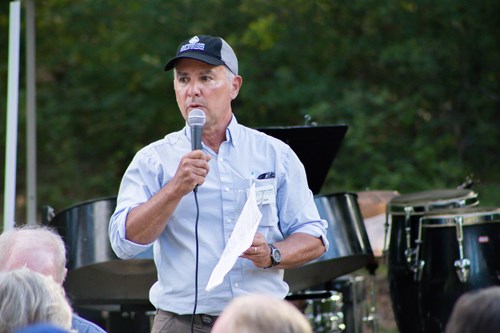 FLBS director Jim Elser often serves as master of ceremonies for visiting groups and conferences. 

Photo courtesy University of Montana Foundation intern Audrey Godbey.
Hospitality isn't just part of FLBS's business model. It's embedded in FLBS's top-down organizational culture. Stop anyone anywhere in the hallways or on the grounds and they'll happily answer questions and ask a few of their own.
There's the sense that creating a welcoming atmosphere is as important as the science that goes on there. During lab meetings, the scientists often discuss the need to hone their skills in communicating the value of what they do and to learn to tell better, more relevant stories. They're anxious to connect with local residents and organizations who share their vision for preserving Montana as a popular vacation destination as well as a great place to live.
Their commitment to hospitality is accompanied by a commitment to transparency. Over the past two years, the bio station began making data from its long-term Flathead Monitoring Program publicly available for the first time. That program has monitored water quality in Flathead Lake since 1977 and is one of only a few long-term data sets of its kind. It has expanded to include the monitoring of water quality at popular swimming spots.
Scientists come from all over the world—including China and Switzerland in 2019—to collaborate with FLBS researchers and faculty and to study their methodology, often bringing their families along. The bio station has comfortable beds waiting for them.
Anyone who has worked in hospitality knows it's hard work. With new groups of students coming and going every two to four weeks during the summer and other groups coming and going during the spring and fall, cabins must be cleaned, linens washed, equipment maintained and repaired, grounds groomed—the work is endless.
The staff who make it all happen behind the scenes are the unsung heroes underlying FLBS's burgeoning hospitality services. There are 29 faculty and research scientists and 10 graduate students on the roster but only 9 administrative, maintenance and information technology support staff, so it's "all hands on deck."
Ask any of the support staff what their role is at the bio station, and they'll likely chuckle and look at you as if you've asked the impossible question. A few even refer to the staff list when trying to recall their job titles.
Lock yourself out of your room or need something fixed? There are "If you need help, call Eric Anderson" signs everywhere. Anderson is the facilities manager and has been at FLBS for 16 years. He lives onsite, is perpetually friendly, and works closely with maintenance technician Reggie Heiser.
Heiser has a reputation for being able to fix anything. He helps Anderson maintain FLBS's sewage treatment plant as well as to keep the bio station's fleet of vehicles and boats clean, fueled, and in running order as they come in and out of the field.
IT administrator Jeremy Nigon deals with computer issues for bio station visitors as well as for faculty and staff. There are hardware issues, software issues, networking issues, printing issues, and email. It's complicated.
Custodian Tony Richard, who has been at the bio station for 10 years, does a little bit of everything, assisting with grounds, construction, simple maintenance, and cabin clean-up. He's often the first face visitors see when they drop in to find out more about the lake and its ecosystems.
His favorite day of the year is the bio station's Open House day in early August when he gets to take off his custodian hat and join Heffernan, Bansak's summer research assistant, in greeting and directing visitors from the community. His job continues to expand in scope and variety.
"We have to be self-sufficient," Richard said. "We're remote. We can't just run to town or call someone. We're it. We figure it out."
Administrative associate Victoria Boyer agrees. She's bio station central and the person you're likely to talk to first if you call FLBS. She and Marie Kohler, also an administrative associate, do much of the frontline work in scheduling and greeting visitors, students and interns as they check in and out.
Budget analyst Teri Bales takes care of the books and all financial transactions, and media and information specialist Ian Withrow gets information out to the public via newsletters and social media. Debbie Jones oversees the bio station's dining hall during the summer session, accommodating a variety of dietary preferences and restrictions.
Food is an issue during the winter when the cafeteria shuts down. Groups that use bio station facilities during winter months have to arrange their own food. There's nothing nearby.
"It was a big deal when we got Panda Express all the way out here to bring food for a staff meeting," Boyer said. "They were supposed to come out one month, but then we had a huge snow storm and two or three semitrucks jack-knifed up in Bigfork, so we had to wait a whole other month. But they came out and brought us food!"
Boyer confirmed that the all-hands-on-deck mentality is part of the bio station's top-down hospitality culture. She once sent out mayday texts and phone calls on a Friday because she needed someone to quickly get a cabin ready for an incoming researcher and his family. Things were winding down for the weekend, and many had already left the bio station.
Four people responded over the weekend, ready to mop the cabin floor and make up the beds with fresh linens. They included facilities manager Eric Anderson, who was supposed to be on vacation; professor Gordon Luikart, who was hosting the new guests; administrative associate Marie Kohler, who was welcoming a new batch of summer session students; and bio station director Jim Elser.
It's not at all unusual for FLBS scientists and staff to perform tasks that extend far beyond their job descriptions and to have each other's backs.
"It's a special place," Boyer said.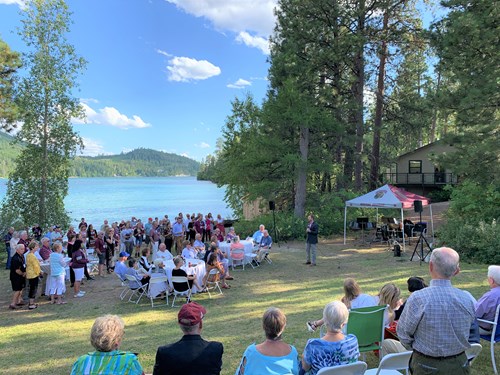 University of Montana president Seth Bodnar makes his opening remarks during the 2019 UM Flathead Lake Alumni event. Photo courtesy University of Montana Foundation intern Audrey Godbey.
By 5:00 p.m. on Thursday when guests for the UM Alumni and Friends event began arriving, the wind had died down to a pleasant breeze, the sun had reclaimed the sky, and Flathead Lake had rolled out a vast, shimmering blue-green carpet for the occasion. Summer interns directed traffic and manned tables showcasing the bio station's current research projects. FLBS personnel mingled with guests and provided tours of the grounds while a steel drum band played old standards under a canopy by the trees.
UM president Seth Bodnar welcomed the well-fed and well-watered crowd and spoke about the value of the bio station and its scientists to both the university and the local community. He formally recognized the recent, prestigious election of bio station director Jim Elser to the National Academy of Sciences.
Elser can be seen most summer days interacting with visiting researchers, interns, and students in the lab or paddling out in a canoe to collect samples. He's also a regular presenter to the various groups that enjoy the bio station's hospitality services.
For Bansak, all the fanfare was business as usual. The good weather meant that none of the guests would find their way inside to the bio station's gift and book store, but the satisfied grin on his face said it all. He'd known all along that things would turn out just fine.