FLARE Program Hits the Ground Running at FLBS
In previous years, the arrival of the fall season signaled an end to the summer hustle and bustle at the Flathead Lake Biological Station (FLBS). It was a time when excitement ebbed with the receding lake level and activities went the way of the freshly fallen leaves. These days, however, nothing could be further from the truth. Thanks to the continued development of the Flathead Lake Aquatic Research and Education (FLARE) program, autumn at Yellow Bay is now more energetic and vibrant than ever before.
The FLARE program is a significant part of a reinvigorated effort at FLBS to integrate cutting-edge research with local K-12 education. It exists in large part because of the generous support of Gretchen and Edward Heffernan, and aims to get kids excited about science by connecting them with Flathead Lake and their local environment. Operating under the guidance of FLBS Education Liaison Monica Elser and FLBS Education Coordinator Holly Church, the program is just entering its first academic year in full operation. But you wouldn't know simply by looking at the numbers.
Since the start of September, the program has brought in over a hundred K-12 students through class field trips to FLBS.
"It's very energizing," said Elser, "to see students and teachers engage in activities that demonstrate the importance of the Flathead Lake ecosystem to the region and the exciting science going on here. It's great to watch students starting to appreciate what an important resource that we have here."
Hosting field trips isn't the only thing the program is designed to do. It also provides professional development workshops for K-12 teachers, and plays a role in many community events. An example of the latter, FLARE recently participated in the 2018 Lake Honoring Ceremony, an event co-sponsored by the Confederated Salish and Kootenai Tribes and Montana Fish, Wildlife & Parks. For its part, FLARE provided five educational stations at FLBS, where students received an all-access pass to FLBS research and learned innovative ways to study and care for Flathead Lake.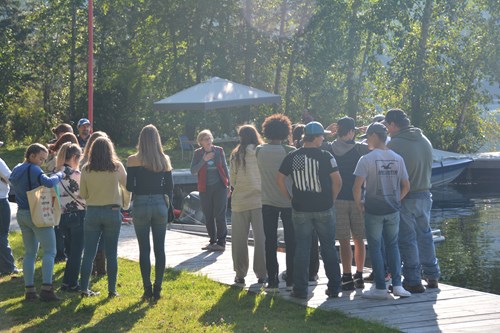 FLBS Education Liaison Monica Elser welcomes a group of local high school students during the Flathead Lake Honoring Ceremony at Yellow Bay.
Katrina Venters, an English teacher at Polson High School, attended the Lake Honoring Ceremony with a fellow English teacher and a majority of Polson High School's junior class. Their attendance was in part motivated by a new curriculum at Polson called the One School, One Book Project. The goal of the project is to have students of all levels read the same book and then venture outside of the classroom for an interdisciplinary understanding of its themes and concepts. This fall, the students are reading Wind from an Enemy Sky by D'Arcy McNickle.
"One of the themes we're working on in the novel is the idea of restoration," Venters said. "And one of the ways we approached teaching this was to look at current restoration efforts taking place in the Flathead Valley. We want kids to understand that there's overlap between disciplines. In terms of something that's really going to stick with the kids, this is a much more powerful experience than sitting in a classroom."
FLARE also sends FLBS speakers and scientists into schools and classrooms. Shortly after the Lake Honoring Ceremony, Polson High School invited FLBS Lake Ecologist Shawn Devlin to a school assembly, where he took part in a panel discussion alongside officials from Montana Fish, Wildlife & Parks and the Confederated Salish and Kootenai Tribes. The discussion focused on the restoration and preservation of local wildlife and ecology, and was held before the entire school body. When it was over, the assembly broke out into smaller groups, giving students the chance to ask questions of the speakers and engage at a more candid level.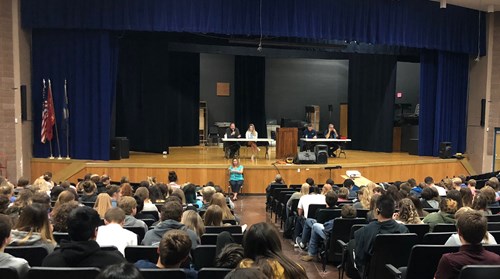 FLBS Lake Ecologist Shawn Devlin answers questions from students during an all-school assembly at Polson High School.
"Our students were talking to an expert, and that's kind of cool," Venters said. "When Shawn spoke during the breakout sessions the kids asked good questions and appeared really interested in what he had to say. That's a different experience than reading an article. Even if it's a really good article, you can't ask it questions when you're finished reading it."
Whether bringing experts into the classroom or taking students to conduct research out in the field, the FLARE program delivers engaging activities and other resources that support hands-on investigations of aquatic ecosystems and organisms. It can be adapted to fit any K-12 class subject or level, and all materials provided to students in the program are created by the FLARE education team in conjunction with FLBS scientists. The FLARE program is also designed to meet Montana state science standards.
"The program provides ways for teachers to easily engage their students in activities that go beyond the classroom and can relate to something that's important to them," Elser said. "The ultimate goal for any of our projects is to give teachers and students hands-on scientific experiences. We work to provide activities teachers can implement in their classroom, things they can do with their kids that they may not have thought about before."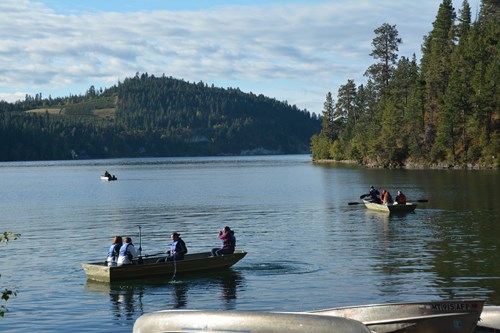 Students from Ronan High School venture into Yellow Bay with FLBS Education Coordinator Holly Church to collect water samples for processing.
As the seasonal change continues, the momentum behind the FLARE program doesn't look to be fading anytime soon. Additional field trips and school visits are scheduled well into October, and the program is hosting a K-12 teacher workshop that's being sponsored by Flathead Community of Resource Educators and the Glacier National Park Conservancy.  With so many K-12 opportunities on the horizon, it seems the traditional wind-down FLBS has historically experienced will have to wait for the snow.
It isn't too late for schools still hoping to schedule a field trip or class visit, however. Those interested in registering or looking for more information can do so by visiting the FLARE website at https://flbs.umt.edu/newflbs/outreach/k-12-education/