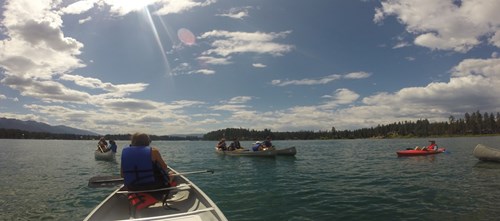 A Legacy of Ecological Education
The Bio Station opened for students and researchers in 1899 distinguishing FLBS as one of the first biological stations in the United States to offer field courses. While courses and faculty have changed over the years, our commitment to high-quality, rigorous, field-based education remains the same as in those early years.  
By immersing yourself in real field station research and education, you position yourself to be more competitive in future endeavors, whether graduate school or your next job.  
On the Shores of Flathead Lake
To ensure your summer is a rewarding experience, it is important you know several facts about FLBS before you arrive.
FLBS is located
on the east shore of Flathead Lake, about 85 miles north of Missoula, MT.
You can expect to meet a diverse group of people in an atmosphere of scholarly fun in the great outdoors.
In addition to summer students and faculty, there will be graduate students, research scientists and visiting investigators. The Biological Station also has a full-time research and maintenance staff of about 25 people who work here year round.