Unveiling History: The Impactful Legacy of Female Scholars at the Flathead Lake Biological Station
By 2023 FLBS Ted Smith Environmental Storytelling Intern Najifa Farhat

Tucked away near the Elrod Building, the unassuming museum at the University of Montana Flathead Lake Biological Station (FLBS) hides a treasure trove of historical significance. While its dimly lit and weathered exterior may not immediately capture attention, a compilation of photographs inside tells a remarkable tale of women's involvement in the world of science. It's an extraordinary journey that challenges traditional gender roles and celebrates the journey of these remarkable women's enthusiasm for scientific pursuits.
Being the inquisitive journalist, I found myself pondering the presence of women at the Bio Station in 1899, its inaugural summer of higher education courses. This was a time when societal norms often confined women to domestic roles as cooks and homemakers, leaving little room for them to explore or gain formal knowledge of the world beyond their homes. Yet, it quickly became evident that women played a pivotal role at the Bio Station right from its inception.
In 1893, the University of Montana (UM) made a groundbreaking decision by opening its doors to female enrollment. The first female student arrived in 1895, and by 1898 the university celebrated its first female graduates.
This forward-thinking approach paved the way for female students and researchers at the FLBS. It was not a matter of whether women would be permitted to research and study at the Bio Station, but rather a given that they would have the same opportunities as men to build their own legacies in the Bio Station's prestigious history.
Such opportunities were certainly not common in other academic institutions of the time, but they weren't entirely unique to UM and the Bio Station either. In a study titled "Putting the Co in Education: Timing, Reasons, and Consequences of College Coeducation", Claudia Goldin and Lawrence Katz shed light on the evolution of coeducation in the United States. Contrary to the common belief that women's higher education in the U.S. began in the mid-1900s, their research reveals that coeducation's progress had actually been ongoing since as early as 1835.
Still, the authors of the study argue that the momentum behind coeducation didn't gain significant traction until the 1960s and 1970s, when institutions began to recognize the importance of women's education for the country's advancement. Many prestigious universities—including several Ivy League institutions—didn't establish separate female colleges or adopt coeducation in the 1970s. UM and the Bio Station had been championing inclusivity from the very beginning.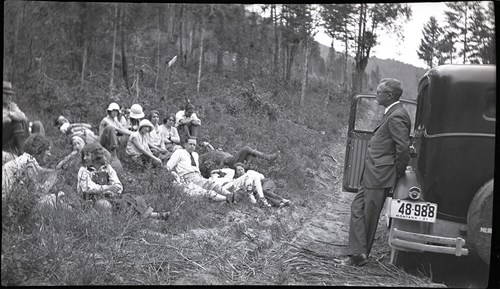 FLBS founder and inaugural director Morton J. Elrod instructs a class of Bio Station students in 1931.
While specific records of the first women at the Bio Station are scarce, early 20th-century promotional materials and photos offer glimpses of women actively participating in fieldwork and classroom studies. Photographs from the summer of 1921, taken by the Bio Station founder Morton Elrod, feature individuals like Jessie Bierman, a notable figure in American public healthcare whose interest in biology was sparked by her experiences at the Bio Station.
A brochure from the summer of 1948 highlights "separate living areas for women monitored by a female counselor," emphasizing the Bio Station's commitment to women's safety and security as a marketing point.
Monica Elser, the education liaison at FLBS, said that the presence of women studying and researching at the Bio Station has only grown more prominent in recent decades.
"There were more men at the station in the 1960s and 1970s due to the return of World War II veterans who pursued college education using the G.I. Bill," Elser said. "However, women started returning over time, and recent classes have been dominated by women, which usually comprise around seventy percent of students."
Looking at FLBS enrollment data from 2003 to 2022, women have consistently been the dominant demographic for summer student enrollment. In 2007, 2011, and 2013, the number of students identifying as female were at least double those identifying as men. The trend has continued over the past decade. In 2023, two-thirds of the total student enrollment were women.
Elser finds it remarkable to witness women actively engaging in field studies at the Bio Station. She attributes this in part to Montana's culture, where women have historically been involved in outdoor activities.
"I think it's just a reflection of the fact that more women are going into life sciences and doing more fieldwork," Elser said. "At the same time, the growing opportunities and diversity of the jobs offered out there are reasons for women to feel interested in life sciences."
The impact of an FLBS education on female students' lives and careers is vividly illustrated through FLBS alum Georgia Smies. Smies, in addition to other FLBS students and alumni, has helped foster an invaluable partnership between the Bio Station and the Confederated Salish and Kootenai Tribes (CSKT). FLBS is located on the Flathead Reservation of the Bitterroot Salish, Upper Pend d'Oreille, and Kootenai Tribes, and many of the Bio Station's research and educational endeavors take place on the Reservation and in collaboration with tribal educators and scientists.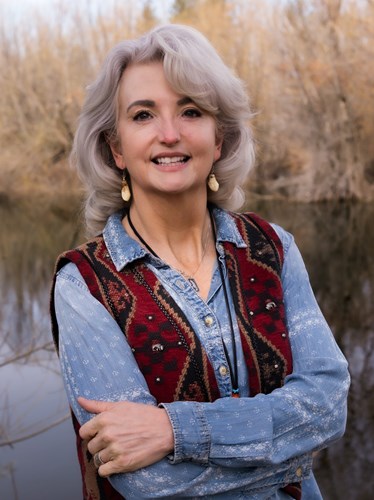 FLBS alumna and Salish Kootenai College faculty and aquatic ecologist Georgia Smies.
In 1991, Smies became the first graduate student to conduct research on the Nyack floodplain research area—a long-term FLBS research site nestled within a rugged mountain valley bisected by the Middle Fork Flathead River. After completing her master's degree, Smies assumed the position of water quality monitoring manager for the Confederated Salish and Kootenai Tribes (CSKT).
She played a pivotal role in establishing water quality standards on the Flathead Reservation are acknowledged at the federal level for tribal water resources. Her contributions stand as an enduring testament to her imprint on national policy.
Now an environmental consultant and faculty at Salish Kootenai College, Smies attributes her professional successes in part to the training and mentorship she received at FLBS. "The highest grade I can give the Station," Smies said, "is that I consistently promote it to my students, and my students are my family."
Recently, Smies passion for science and ecology led her to undertake a unique project: writing a children's science book in both English and the native languages of CSKT tribes. Her hope is that the book provides indigenous children access to crucial knowledge about the ecology and watershed of their reservation land.
Over the years, the Bio Station has extended educational opportunities to tribal students from not only the Flathead Reservation but also across the nation. One such student was Kelly Coates, a member of the Cow Creek Band of Umpqua Tribe.
Coates, who now leads the natural resources department for her tribal government in Roseburg, Oregon, first experienced the Bio Station as an undergraduate student in the FLBS Field Ecology course in the summer of 2005. This immersive educational experience propelled her trajectory, leading her to secure a Bio Station internship the following year. During her internship, she worked alongside professional scientists at the Salmonid Rivers Observatory Network in British Columbia, Canada.
"I was still in doubt after my graduation that biology is the right field for me—like, am I cut out for this?" said Coates. "And then doing those kinds of experiential learning and fieldwork really nudged me in the right direction and just really solidified where I should be."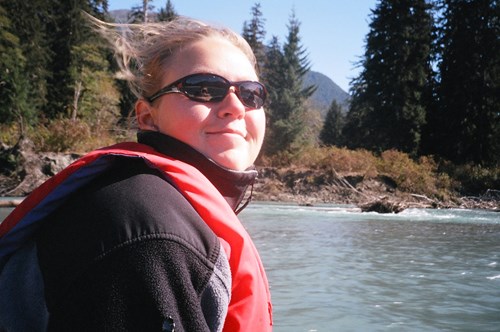 FLBS alumna Kelly Coates enjoys the sunshine while conducting field work as a Bio Station intern in 2006.
After earning her master's degree in 2011, Coates delved into diverse ecological assessments and potential restoration of salmon in the Umpqua River of Oregon. Her approach encompassed not only rigorous scientific protocols, but also the integration of historical and traditional ecological knowledge (TEK) from the river system's tribal inhabitants.
Upon completing her studies, Coates embarked on a path dedicated to merging tribal wisdom with science-based conservation of the Umpqua River. As she aptly puts it, "For our tribe, natural resources are considered cultural resources. So, if we're doing a fisheries project, we're working on culturally significant species. We hold cultural interest in everything we do."
Smies and Coates aren't the only notable FLBS alumnae making a significant impact on our world. A renowned research fish biologist with the U.S. Forest Service (USFS), Bio Station alum Susan B. Adams has gained international attention for her exceptional contributions to crayfish research. Known as the "Jane Goodall for crayfish," Adams completed her doctoral studies at FLBS, where she studied the invasion of brook trout in Montana and Idaho streams.
To this day, the Bio Station holds a deep significance for her and her family.
"I still remember there used to be two little houses right across from the main building," Adams said. "My entire family moved there, and my son was there from an infant until he was four and a half – basically he grew up there in his early years."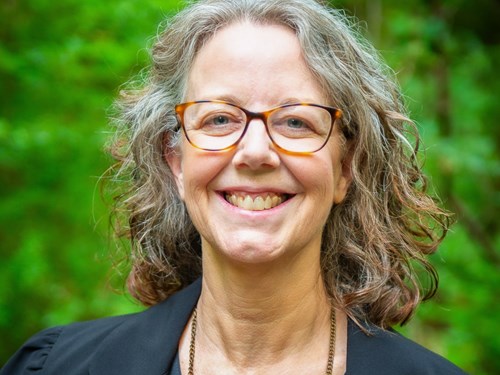 FLBS alumna and renowned crayfish expert Susan B. Adams was honored as a recipient of the University of Montana Alumni Association's Distinguished Alumni Award in 2023.
Upon the completion of her PhD, Adams secured her position with the USFS, where her turned her scientific focus to crayfish for the first time. Adams embarked on studies of these common freshwater creatures when they were largely overlooked by the scientific community. Over two decades of dedicated research, she authored a substantial body of work, advocating for increased awareness of these creatures and successfully elevating their recognition within the realm of aquatic science.
Her research has influenced the listing of certain crayfish species under the protection of the Endangered Species Act. However, Adams believes that her most significant accomplishment was the establishment of a website dedicated to crayfish in collaboration with the US Forest Service.
This website featured comprehensive data on various crayfish species, including habitat distributions, identifiable feature images, and other content that was accessible for public use. Although the website ceased to exist in 2020, Adams and others are currently working to collate data and establish an open database that will return public and scientific accessibility to important crayfish-related work.
"Crayfish play a pivotal role within the ecosystem," Adams said. "My research indicates that roughly 300 species in North America rely on crayfish as a vital food source. This encompasses birds, mammals, fish, and even smaller organisms such as fishing spiders and dragonfly larvae that consume juvenile crayfish."
In recognition of her influential contributions to crayfish research, the University of Montana is set to honor her with the 2023 Distinguished Alumni Award in September.
Since the Bio Station's founding, women scholars at FLBS have challenged societal norms and forged new paths in scientific exploration. As FLBS closes in on its 125th anniversary, current enrollment trends serve as a strong indication of the Bio Station's continued commitment to inclusivity, sustaining a century-old progressive approach to education that has generated an enduring impact on the natural world through the careers and lives of its remarkable alumnae.