FLBS Aquatic Invasive Species Program Expanded Prevention Objectives and Outreach Efforts in 2023
Aquatic Invasive Species (AIS) early detection and prevention remains a crucial cause for keeping our waters clean and blue in Montana. While the number of out-of-state visitors is not as high as it has been over the past few years, tourism still continues to dramatically increase the risk of invasive mussel infestations in our state and region.
Thanks to the hard work of boat and watercraft inspectors throughout the state, fifty mussel-infested watercraft were intercepted at state and tribal boat inspection stations in 2023. The most recent—a vessel headed for the Fort Peck Reservoir in northeast Montana—was discovered at a boat inspection station on October 19.
Behind those front lines of prevention at Montana's boat inspection stations, Flathead Lake Biological Station (FLBS) AIS Specialist Phil Matson and his AIS monitoring team have been busy assisting a rigorous and collaborative early detection survey of our waters. This monitoring is to ensure that—should a mussel-infested boat somehow make it into our waters without getting cleaned, drained, and dried—the invading mussels or other AIS are detected as early as possible.
"This year we were able to complete three rounds of early detection sampling for zebra and quagga mussels at thirty-one different sites on Flathead Lake," said Matson. "Grant funding and philanthropic support plays a crucial role in help us advance our innovation and outreach, and we couldn't be more grateful for the continued investment of our state and local communities."
One example of a grant-funded innovation in 2023: FLBS AIS Program was able to add two new invasive organisms to their early detection analysis. In addition to invasive mussels, the University of Montana's Montana Conservation Genetics Lab was able to utilize optimized environmental DNA assays for Asian clams and rusty crayfish. The lab analyzed samples collected at twenty different locations in the Seeley-Swan Valley and Flathead Watershed. None of these threats have been detected in any of the samples processed thus far.
Matson said that the FLBS AIS Program was also able to widen its early detection efforts through collaborative partnerships with local lake association representatives. FLBS worked with Flathead Lakers, Swan Lakers, Friends of Echo Lake, Little Bitterroot Lake Association, Friends of Lake Mary Ronan, Flathead Lake AIS Volunteers, and the Missoula County Department of Ecology and Extension in building their capacity for AIS surveillance.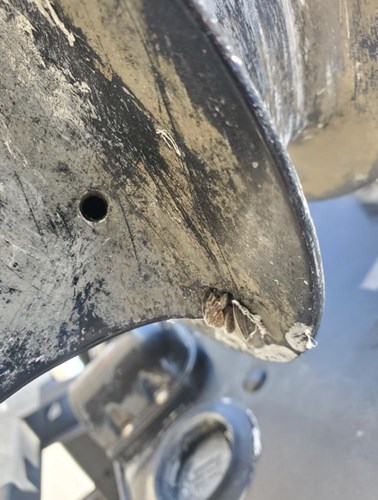 On October 16, the Wibaux station intercepted a Minnesota boat headed for Fort Peck with zebra mussels attached to the outboard motor. The boat was decontaminated and locked at the station, and a follow-up decontamination and inspection will be conducted. Photo courtesy Montana Fish, Wildlife & Parks.

In addition to eDNA surveillance, the lake association representatives were trained in the FLBS large volume plankton tow protocol for invasive mussels, and given sampling equipment and adult mussel settling plates. The settling plates were deployed at 18 sites on Flathead Lake, Swan Lake, Little Bitterroot Lake, Echo Lake, and Lake Mary Ronan, and together with the sampling equipment, will be used in the future to support existing or develop new sampling plans.
Collaborative relationships are nothing new to Matson and his team. This marks the FLBS AIS Program's seventh year partnering with the Confederated Salish and Kootenai Tribes (CSKT) and working closely with Montana Fish, Wildlife & Parks (FWP). The program also benefits from an incredible team of volunteers.
"Once again, we were fortunate to work alongside numerous Big Sky Watershed Corps Members, Bio Station interns, CSKT staff, and local volunteers," Matson said. "Sustaining a willingness to collaborate and work together is critical to keeping our waters free of invasive mussels and other AIS."
Back in September, invasive mussels were discovered for the first time in Idaho's Snake River near Twin Falls during routine invasive mussel monitoring by the Idaho Department of Agriculture. This infestation has the potential to spread throughout the entire Snake and Columbia River systems, significantly disrupting aquatic ecosystems and triggering widespread economic impacts.
Idaho stakeholders, officials, and managers are currently working through a treatment plan to prevent the invasive mussel spread as much as possible.
"The Snake River detection is one of three recent detections near Montana's borders – including Pactola Reservoir, South Dakota, to the east of us and Highline Lake, Colorado to the south," said Matson. "It is a stark reminder to all of us to remain vigilant to not only out of state boater activity but to how we take care of all our aquatic resources.
Matson says these new detections are getting close legislative attention down to the local watershed level, and that education and outreach programs will play an important role in keeping mussel-infested watercraft at bay moving forward. 
One such program is the FWP's "Clean, Drain, Dry" campaign, which Matson and his team help promote through the dissemination of stickers, coloring books, and other informative materials. FLBS also participates in important outreach efforts, like the Mussel Walk for local middle school students, co-hosted alongside CSKT educators, the Flathead Lakers, and Montana State Parks. This year, the Mussel Walk engaged roughly 200 students from Bigfork Middle School, Polson Middle School, and Two Eagle River School through three separate events around Flathead Lake.
The educational opportunities aren't limited to local K-12 students. This year, the FLBS AIS team hosted an eDNA training for early detection and monitoring in conjunction with FWP. This two-day training was attended by 18 participants from 13 federal, tribal, state, and local watershed associations. Attendees benefited from learning native and non-native aquatic species identification, eDNA collection protocol, and macrophyte and invertebrate collection. A large portion of this training was videoed by Conservation Media to create a short film to help train citizen scientists on invasive species monitoring.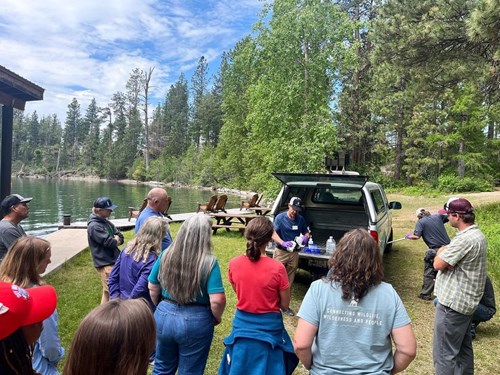 FLBS AIS Coordinator Phil Matson holds a demonstration on environmental DNA sampling protocols during a collaborative AIS early detection training workshop last spring.
The FLBS team also hosted a training in the use of Loop-Mediated Isothermal Amplification (LAMP) DNA amplification protocol for eDNA testing of zebra and quagga mussels. Point of use genetic tools, such as LAMP, are being used to detect DNA targets at the site of sample collection, with results coming in often within 30 minutes. The speed and efficacy of these innovative genetic tools could be beneficial for scenarios such as early detection of invasive species on Flathead Lake that require immediate management action.
"We're working with scientists from USGS to make sure we can optimize LAMP protocols with our Bio Station protocols," Matson said. "This would provide yet another layer of early detection to our vulnerable waterbodies."
In addition to taking advantage of key innovations in early detection of invasive species, Matson strives to build and strengthen connections with additional local, state, and regional partners. Both he and FLBS director Jim Elser will represent the Bio Station on the newly formed Western Montana Conservation Commission, which aims to facilitate coordination between resource managers protecting existing high-water quality across western Montana.
Matson is also inspired by the growth of the FLBS AIS Program's early detection reach. In addition to routine monitoring of Flathead Lake, FLBS AIS specialists were able to complete a wide range of AIS monitoring and prevention objectives, and connect those objectives to a wider audience than ever before.
"It's been another really busy year for us, that's for sure," said Matson. "But we are fortunate that we continue to have a fantastic group of researchers, stakeholders, and legislators here in Montana and throughout the country that understand the importance of prevention."