Flathead Lake Biological Station Offers Summer Internships
by Heather Fraley, Environmental Science and Natural Resource Journalism Intern
I'm working as a journalist and I'm living with a view of Flathead Lake out the window of my room. I wake up to glorious sunrises and the sound of waves gently lapping on the shore. With no independent wealth and middle-class parents how do I afford lakefront living? The answer is the University of Montana's Flathead Lake Biological Station internship program.
For university students, having hands-on experience is becoming increasingly important to get jobs. A good way to stand out is to do an internship or two.
The Flathead Lake Biological Station is answering this growing demand for work experience by offering an interdisciplinary internship program with new opportunities for University of Montana students and for students from elsewhere. Now in its third year, the program has expanded to encompass new disciplines. The philanthropically funded internships span a range from education and communication, to biology, chemistry and computer science. This year, an education and outreach intern, a legal intern and a journalism intern have been added to the offerings.
Having a variety of disciplines represented provides more opportunities for more students. It encourages collaboration and interdisciplinary work. It also gives students from different fields the chance to learn from each other and to find opportunities at a field research station.
"That was the goal, to have this array of students from different backgrounds," says Monica Elser, the internship coordinator at the Bio Station.
The Bio Station internship program takes dream jobs and makes them a reality for eight weeks. Students who participate in these internships are surrounded by world-class scientists, and they gain hands-on experience. Room and board are included at the field research station on the shores of the largest and most beautiful freshwater lake west of the Mississippi. The Interns develop camaraderie with each other, getting together for camping trips and high mountain hikes after work hours.
Internships can make a huge difference in the trajectory of a budding career. For some fields like counseling, journalism, wildlife biology or accounting, internships are a prerequisite to employment, or even required by the degree programs themselves.
"Internships can make people stand out to employers," says Cheryl Minnick, who's been an internship coordinator and director of national student exchange at the University of Montana for 20 years. She started her own career as an intern at UM.
According to Minnick, in the 2018 academic year, 1 in 4 students who did a formal internship through the University of Montana received job offers from their employers at the end of their internships. Of those who didn't, 23-28 percent negotiated other opportunities like another internship or part-time work.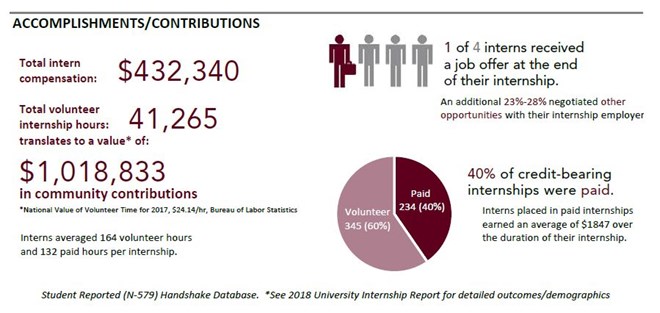 University of Montana Academic Enrichment Internships
Accomplishments and Contributions report for the 2018 fiscal year.
"It sets students apart in many ways," she says. "It gives them that competitive advantage. They have that professional network. You already know people in the field when you go to get a job, and your resume is fuller with professional experience."
She's seen the requirements for successful career entry change over the years.
"In the 1990s it was like 'just get into the right college and get good grades and you'll be great,'" she says. "In the 2000s it was like 'get into the right college, get good grades and get a technical degree', and now it's like 'you know what, skip all that and just get experience,'" she says.
For Finley Andrew, a sophomore at the University of Montana from Dillon, MT, her microbiology internship at the Bio Station was a great way to get experience in her field as she prepares to apply to graduate school in a couple of years. She got to work for leading ocean microbial ecologist Matt Church.
"Especially the first week it was a little like living in a dream," she says. "It was like 'I get to do eight hours of lab work, and then I go and I live somewhere beautiful.'"
It's especially important in the field of microbiology to have experience working in a lab in order to be competitive in applying to graduate school. Learning valuable techniques, like how to take primary production measurements using radioactive carbon isotopes, will give her a leg up in the search for a funded graduate position.
Only half of UM's formal internships are paid, and the Bio Station interns get paid for their work. Without the pay, several of the interns would not have been able to apply.
Andrew is among them. She has to make money during the summer to pay for her school expenses in the coming year.
"It's great, I mean they house us and they pay us and they feed us," she says. "I'm not sure what else I could ask for."
For Dan Brister, the inaugural Beck Environmental Law Intern at the Flathead Lake Biological Station, having a paid internship was also essential.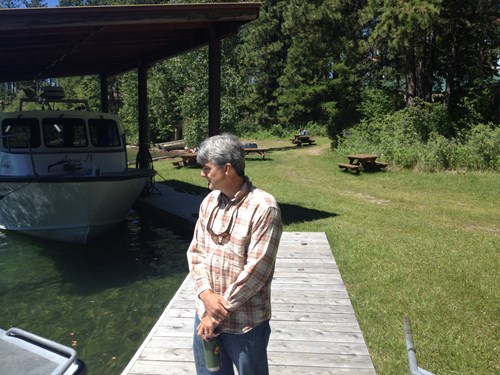 Inaugural Beck Environmental Law Intern Dan Brister.
Brister is a second-year law student at the University of Montana. In addition to paying for school, he has a wife and a two-year-old daughter that he needs to help provide for. He's able to get valuable experience in his chosen career, and still make a little bit of money to help pay the bills. "I couldn't have done it if there wasn't some compensation," he says.
The Bio Station legal internship was so unique, and fell in line so well with his interests, that he couldn't pass it up. It was the only internship he applied for.
"A lot of the legal internships are office-based at a law firm in Missoula, but with my interest in environmental law, I was looking for something different," he says. "As soon as I saw this one it really spoke to me."
Brister is starting his second career after spending 19 years working for a non-profit organization that protects wild Bison outside of Yellowstone National Park. He saw how important legal strategy was in conservation, and how important it is for attorneys to have a solid understanding of science.
For Dylan Cook, a biology major at the University of Pennsylvania, his internship reinforced to him the value of working with people from other disciplines to make scientific advancements. He worked for Cody Youngbull, an engineer who runs the SensorSpace Lab at the Bio Station. Cook learned about electrical engineering and microfluidics during his internship, knowledge that he plans to apply to his biology work in the future.
His job was to continue work on the DNA Tracker prototype that is being developed by the SensorSpace Lab. The DNA Tracker is an instrument that fits in a case the size of a microwave. It determines the presence or absence of DNA from certain organisms in near-real-time. It's being developed to detect aquatic invasive species like zebra and quagga mussels.
Cook says he's seen that Youngbull's engineering background is a real asset. If he were more biology focused, he may have been discouraged from attempting the DNA Tracker's design. "He was kind of ignorant to the biology naysaying voices, so he just did it anyway," Cook says.
The internship has also allowed him to learn to be comfortable working with high-level researchers.
"Just to be dealing with world-class scientists on an intimate level is a good social skill to have," he says.
Cook feels like he'll come back to the biological station at some point just to visit the people he's made connections with.
Dan Franz also thinks that in addition to the experience, the people he meets at the Bio Station will be life-long connections.
"What I think will be more valuable down the road are the people I meet here, the network I acquire here," he says. "You're surrounded by top-notch people."
Franz did a more traditional bio station internship as a resource conservation major in the Franke College of Forestry and Conservation at UM. He worked on Flathead Lake with Jim Craft, a 30-year veteran Bio Station researcher, to collect and process lake samples for the long-term Flathead Lake Monitoring program that's been going on since the late 70's. In four weeks, he processed 1100 mysis shrimp under a microscope. He knows the experience he's gaining will give him a boost when he's applying to graduate school.
The Bio Station is continuing to provide the traditional biology fieldwork experience for students like Franz while expanding into less-traditional avenues. For example, Anne McDarris was the biological station's first education and outreach intern. McDarris was a summer student at the Bio Station in 2016, and knew she wanted to return to if an opportunity arose.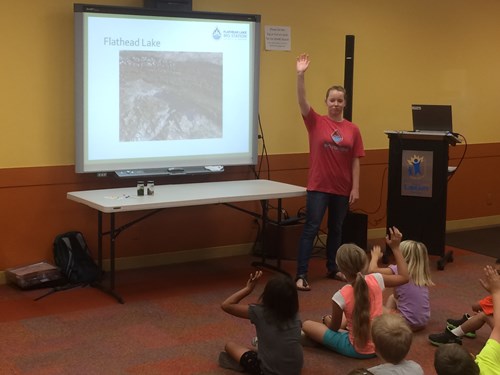 Anne McDarris teaches local children about the Flathead Lake Biological Station at a public library in Polson over the summer.
The Bio Station recently ramped up K-12 education programs with help from a $500,000 private donation. They now have a formal K-12 program, and an intern position that is funded for five years. This philanthropic funding is giving McDarris the opportunity to make a difference for young students. She eventually wants to work in science communication.
"I think it's really important that people know about the environment and how to treat it," she says.
She's a rising senior in environmental studies and journalism at the University of North Carolina at Chapel Hill, and will start taking graduate classes this coming year as a senior undergraduate.
Through her internship, she's learned a lot about distilling down complicated science, a skill that will be essential in her science reporting later on.
"I've learned how to take the science and journals and things from the big textbooks and translate it into something that a five-year-old would be able to understand. Literally," she says.
She's also improved her independent working skills, developing curricula and presenting by herself at events on and off the Bio Station grounds.
This is her third internship. She thinks the experience of having several internships in a related field to her career path is essential for her to be competitive in today's job market.
"There's just a lot of competition, she says. "You can't really work at a restaurant or wait tables or something like you used to be able to, and still want the same things." "You have to get that work experience when you can, so you can jump in and be ahead."
The Bio Station's interdisciplinary internship program and the generous community members who support it are able to provide this year's cohort of interns with a leg up on the competition.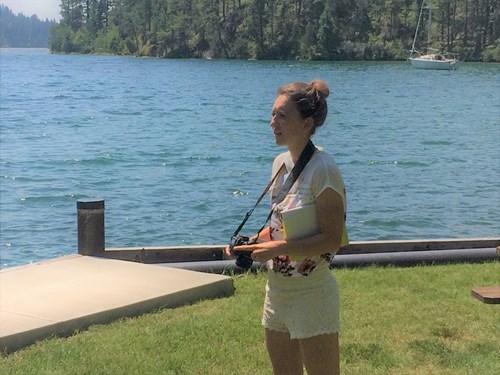 Environmental Science and Natural Resource Journalism Intern Heather Fraley.
For me, the Bio Station internship helped provide the experience I need to get a job in a field that requires internships. It's also pretty hard to complain about doing what I love against the stunning backdrop of Flathead Lake.