Boulder Fire Brings Sudden End to FLBS Summer in the Flathead
As many of you know, this year has been a challenging wildfire year in Montana and around the west.  Many of our valleys have been choked with smoke, and large numbers of people and their homes have been in harm's way. Unfortunately one fire, the Boulder 2700 Fire near Polson, MT, warranted the evacuation of hundreds of people along Flathead Lake's east shore, destroyed more than 30 structures, and greatly disrupted the operations of the University's Flathead Lake Biological Station (FLBS).
The Boulder 2700 Fire started on Saturday, July 31, in the Mission Mountains about eight miles northeast of Polson. The Confederated Salish and Kootenai Tribes (CSKT) Division of Fire responded quickly, and despite severe fire conditions they had the small blaze under control. Then, in the early hours of Sunday morning, everything changed without warning.
Just after midnight on August 1, temperatures spiked into the 90s and a strong wind came out of the northeast. This wind rapidly pushed the fire down the Mission Mountains toward Flathead Lake, and in a matter of hours the fire had swelled to more than 1,000 acres. Residents along a 10 mile stretch of Highway 35, including all residents of Finley Point, were forced to evacuate. Power was shut off to the area to prevent additional fires.
Numerous fire departments from Bigfork to Arlee bravely worked with CSKT to push back against the Boulder blaze. These fire departments included the Finley Point/Yellow Bay Fire Department, in which FLBS maintenance supervisor Eric Anderson serves as fire captain for the Yellow Bay substation located on FLBS property, and the City of Polson Fire Department, where FLBS facilities technician Reggie Heiser serves as a volunteer fireman. Heiser was among the first volunteer fire crews on the scene of the Boulder Fire and played an important role helping to protect homes and structures along Highway 35.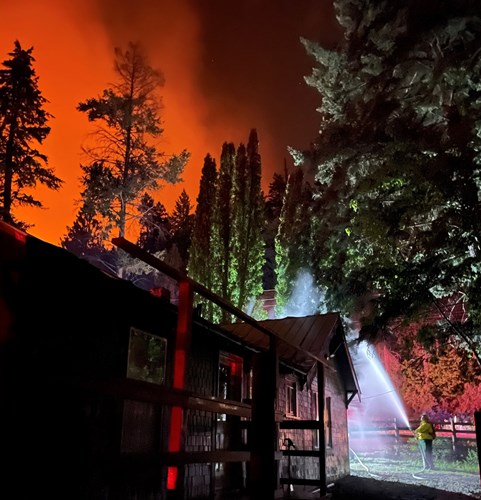 A Finley Point/Yellow Bay volunteer firefighter works to protect a home from the Boulder Fire. Photo courtesy the Finley Point/Yellow Bay Fire Department.
By 3am Sunday morning, as Heiser and others fought the Boulder Fire, FLBS media and information manager Ian Withrow was at the Red Cross Evacuation Center at the Linderman School in Polson, where he helped Red Cross volunteers and the Polson Chamber of Commerce organize and deliver meals to evacuated families. Withrow, the volunteer communications chair for the Polson Chamber Board of Directors, used Polson Chamber and FLBS social media accounts to help inform and update local communities on Boulder Fire developments. These important communications greatly helped disseminate the most recent fire information, and reached nearly a quarter of a million people in a seven day period.
Meanwhile at the Bio Station, which was under an evacuation warning but not an evacuation order, FLBS Director Jim Elser woke and mustered all residents, roughly 40 students, interns and visiting researchers. Elser instructed them all to pack small bags and be ready to leave very quickly if the fire moved towards FLBS. Some went back to sleep in their cabins. Others did not.
By midday Sunday, a small group of FLBS personnel, including Heiser and Elser, were taking stock of the situation, and working to protect Bio Station infrastructure and irreplaceable scientific samples and data. The Bio Station had no power, no water, no phones, no internet, no email, and the back-up generator for the wastewater treatment plant had failed. The decision was made to evacuate students, interns and residents. Most were graciously accommodated and fed at the University of Montana's main campus in Missoula.  
Ironically, the FLBS class that was scheduled to begin on Monday August 2 was Forest and Fire Ecology. Taught by UM forest ecologist and Wilderness Institute Director Andrew Larson, Forest and Fire Ecology emphasizes the principles of population, community, and ecosystem ecology in the forests and grasslands of the northern Rocky Mountains. Adjusting quickly to the location change, Larson and his students—many of whom were supported by philanthropic scholarships—were still able to get into the field near Missoula and learn data collection techniques, document plant distributions, and investigate the impact of wildfires on plant ecology.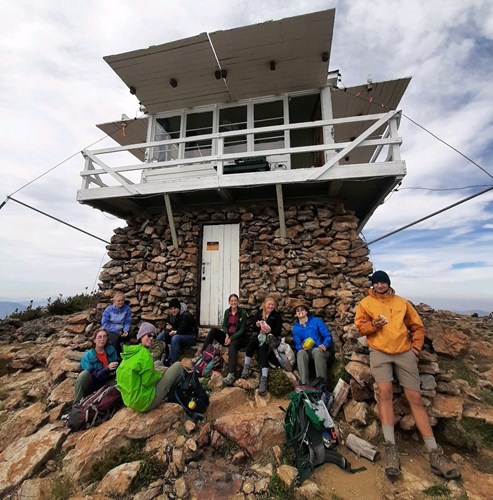 The FLBS Forest and Fire Ecology Course takes a break from researching in the field. 
But FLBS undergraduates weren't the only ones exploring the impacts of wildfire. The Bio Station's Flathead Lake Monitoring Program went out and collected their regular suite of data and samples, demonstrating once again the importance of long-term monitoring. FLBS Director Elser collected both ash and ashy water from the Boulder Fire fallout. FLBS lake ecologist Shawn Devlin made preliminary assessments on short and long-term impacts of the Boulder Fire on Flathead Lake temperatures, turbidity and ecology. Finally, FLBS graduate student Brooke Bannerman launched a new research project exploring the impacts of wildfires on lakes.
Thanks to the hard work of Mission Valley Power and a number of dedicated FLBS personnel, power, internet, phones and water sanitation were all restored within a week to the Bio Station facilities. All FLBS personnel and visitors are safe, and FLBS infrastructure and scientific samples were spared. Evacuation orders have been lifted and Highway 35 is open again.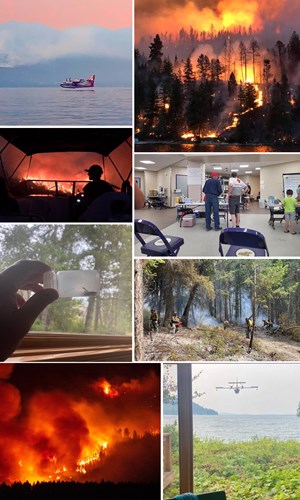 Today our heroic firefighters continue to build a perimeter around the Boulder 2700 Fire, which is now 60% contained. To this point, the fire has burned 2,230 acres, and is not threatening any additional structures. We cannot say enough about the incredible efforts of fire and emergency crews for their tireless work fighting the Boulder Fire and many other fires across Montana and the United States. If the Boulder Fire taught us anything, it's that our communities are capable of incredible things, and when we all work together, there's nothing we can't over come.