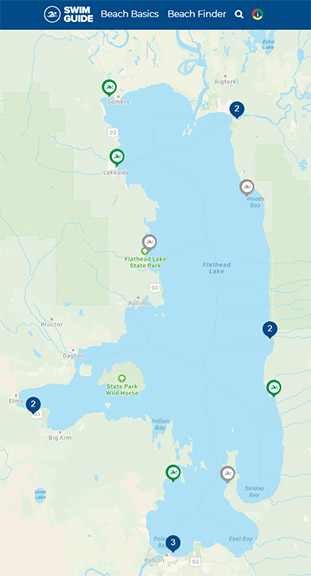 The Flathead Swim Guide
Project is a collaborative effort between the Flathead Lake Biological Station (FLBS), the Confederated Salish and Kootenai Tribes, and the Flathead Lake Open Water (FLOW) Swimmers providing 
up-to-date water quality information about swimming locations throughout Flathead Valley. The Flathead Swim Guide is part of
the Swim Guide, a website and app with information on over 7000 swimming locations throughout the world.
The Flathead Lake Biological Station supports the Swim Guide by providing testing of water samples taken from local swim beaches, as well as monitoring of our own local swimming beach to ensure Flathead swimming remains clean and clear.    
In the Flathead, monitored beaches include the following locations: 
https://www.theswimguide.org/beaches/montana
.